by Ruth Edwards
Somerville, Texas, USA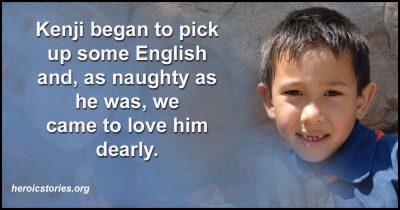 I arrived in Japan at ten years of age, with my missionary parents and older brother. The sights, the smells, the culture were all new and mysterious. We moved into a Japanese house at the edge of a large elementary school yard where hundreds of children played after school each day. They were tattered and poor as most of the Japanese people were in the early fifties, right after the war.
None of our family spoke the language yet, though I quickly learned Japanese with a fluency that can only be accomplished in early childhood. This early lack of language abilities presented some unique problems for my family. The simplest task of buying eggs, for instance, could prove to be a challenge.
Among the many who watched us foreigners with great fascination was ten-year-old Kenji. He had no fear of us; in fact he was quite bold. He was a rascal for sure, always up to something. But Kenji proved to be very helpful to us while we were adjusting to the newness of a different culture. He would bike off and come back with eggs, or onions or whatever we were able to get across to him that we needed by drawing or motioning. He was instrumental in my learning Japanese quickly, though I later had to unlearn some things that were not ladylike….
Kenji began to pick up some English and, as naughty as he was, we came to love him dearly. He quickly familiarized us with the layout of the community and taught us where we had to go for what we needed. But one day Kenji was missed, and when he continued not to show up we went to his home just down the block and asked about him. We found out that his parents had sold him to a farmer for 10,000 yen (about $28.00 in those days). This was a great deal of money to a household with eight children, six of them younger than Kenji was. Of course we were devastated but through much haggling my parents were able to pay the farmer back and take Kenji into our home. He fit in well and we enjoyed having him as one of the family.
He grew up, married and went into business for himself before we left Japan for good. I have visited since then and he was right there to pick me up at the airport and taxi me where I needed to go. Though we are an ocean apart, he'll always be my Japanese brother!

Podcast: Play in new window | Download (Duration: 3:45 — 1.8MB)