by Catherine Granger Glover
North Carolina, USA
There were eight of us, for five years, back in the late 1980's and early 1990's. I had adopted three boys born of my ex-husband's first marriage. I also had my daughter, and my two nieces and nephew, staying while their mom left an abusive relationship, and me. We were a mixed family, but full of love and luck.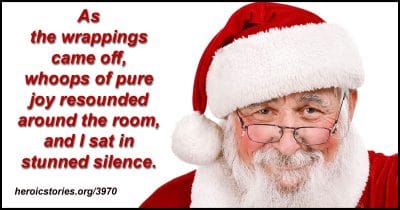 For the holidays, I started picking up little things in February, so I'd have something for each child. Working four 10-hour days weekly gave me one weekday to shop while they were in school.
Each year we carefully filled out "adopt a family" forms asking each child's age, height, weight, favorite color and sports team, and desires. Thanks to various giving organizations, I didn't have to budget money for holiday dinners.
We often received very nice gifts for each child, however most were clothes or very generic items. The kids were always thankful to have new items. My 'big bucks went to finding a special gift for each (usually a thrift store, dollar store, or clearance item), which they would know was purchased just for them.
In 1991, my daughter was 7 and wished for a baby doll more than anything in the world. She knew Santa would bring her a baby doll, carriage, and all the tools to care for her baby. I found an inexpensive umbrella stroller, a cheap doll, and even some clothes and a bottle, but feared they would break quickly. She was thrilled, as were all the kids with their 'big' presents.
Then it came time to open the 'charity' gifts. There was more than one for each child, which confused us but was fun. Each child opened what it expected to be a piece of clothing, or generic dollar store toy. As the wrappings came off, whoops of pure joy resounded around the room, and I sat in stunned silence.
Each child had received something just for them! My daughter received a wonderful baby doll with a full set of clothes, and everything to take care of it — bottles, diapers, bibs, etc. The boys each received a regulation-size ball and a correctly sized team jersey for their favorite team. My nieces received 'real' versions of the items they had asked for. There was even a present for me, a small photo album to hold photographs.
I don't remember the exact class that adopted us that year, only that it was from Springfield High School, Virginia. We didn't know how they raised the funds to buy the presents, or why they adopted a whole family rather than just contributing gifts to a drive.
I only know that whenever Christmas comes around I send my thanks out once again for that wonderful year. 16 years later we still talk of the joy that class brought to our whole family. About the year that not only were our needs met, but a caring respect for us as individuals was added.
Originally published as HeroicStories #747 on April 12, 2008

Podcast: Play in new window | Download (Duration: 4:13 — 2.1MB)