by Robert H. Lowdermilk
Denver, Colorado, USA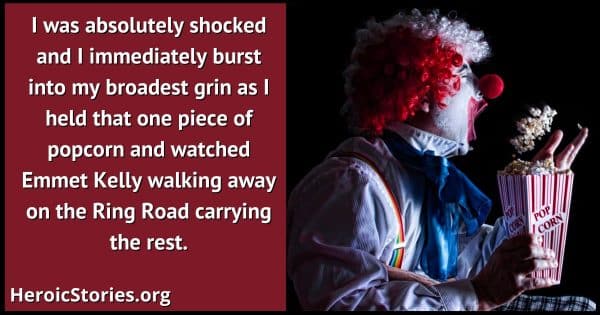 ---
Shortly after World War II, when I was 9 or 10, my parents took me to the Ringling Brothers Circus. I loved the circus, especially the clowns. There was one clown I knew by name. Everyone did: Emmet Kelly.
We had seats right on the edge of the Ring Road where the performers staged their grand entrance. As the Ringmaster introduced the performers, they stepped into the parade and greeted the audience.
I was resting my chin on the rail in front of our seats when I first noticed Emmet Kelly walking toward us — he was going to pass right in front of me! I had just started to eat from a new box of popcorn. When he was close enough, I extended my popcorn and offered him some. His reaction was instantaneous. His masterfully painted soulful down-turned mouth and sloping sad eyes suddenly lit up, and it was evident to all who could see him that he had suddenly found the equivalent of salvation in my simple offer of popcorn.
Emmet Kelly's expression and silent gestures went from the shock of discovery to "Me, no, really me, for ME?" I was amazed to see him instantly capture the attention of not only me but also the surrounding audience with a masterful sequence of expressions and movements. With incredible skill he mimed all his thoughts with silent and unmistakable precision. I knew everyone was watching — I could hear their laughter. He had me mesmerized. Even with my embarrassment, I felt a wonderful happiness and the anticipation of possibly being able to help him.
After what seemed a very long time, he took the box of popcorn from my hand and pulled out a single piece. He then held that single piece of popcorn ever so lightly between his thumb and forefinger. An expression of soul-felt reward beamed from his face. It was absolutely marvelous. You could see by his ecstasy that he had found the most wonderful piece of popcorn in the world. Very slowly he took his time to look at all sides and all angles of that most glorious piece of popcorn.
Then he looked back at me. The gratitude in his eyes was heartrending. I had made him happy. My life was complete and so was his. His face almost radiated beams of light. I was embarrassed, but his joy made me a very happy kid. He then smiled, a very happy sad smile, reached out and handed me that single piece, gracefully turned, and walked away with the rest of my popcorn.
The audience's laughter was incredible. I was absolutely shocked and I immediately burst into my broadest grin as I held that one piece of popcorn and watched Emmet Kelly walking away on the Ring Road carrying the rest.
He later returned my popcorn when we were no longer in the spotlight, and with it I received a grateful gesture and a wonderful lifelong memory.

Podcast: Play in new window | Download (Duration: 4:22 — 3.2MB)