by Brenda
USA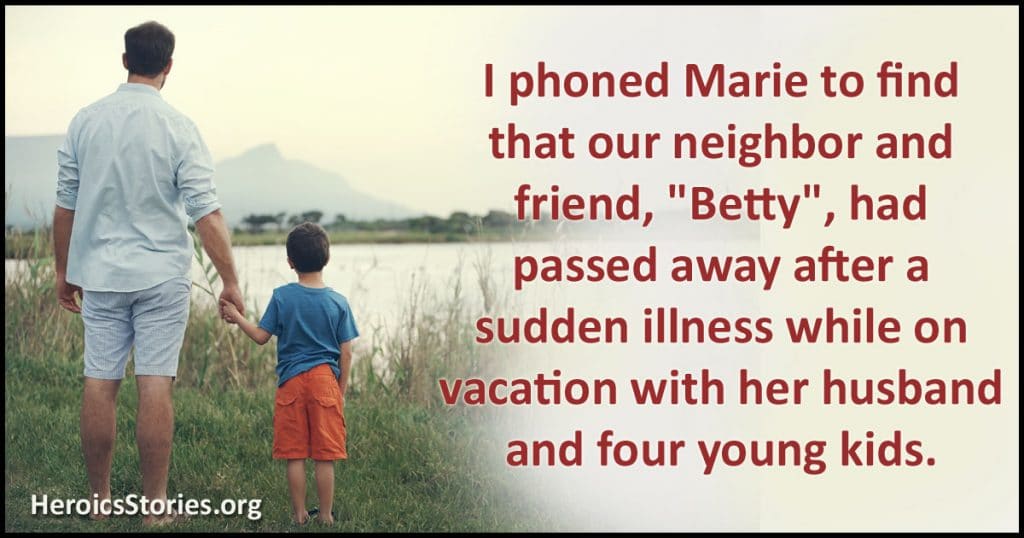 After dropping my daughter off at pre-school one Thursday morning in July, I was surprised to see a message on my answering machine. My neighbor Marie asked for me to call her back as soon as possible. Her voice was obviously shaky, and I returned her call — concerned that something was wrong. Little did I know that phone call would bring so many people together.
I phoned Marie to find that our neighbor and friend, "Betty", had passed away after a sudden illness while on vacation with her husband and four young kids. It was a devastating loss for her family and our community. Betty was involved in many neighborhood and school events and groups. She was a giving, loving woman, who offered her time freely. She always told people she couldn't say no to anyone.
As the morning wore on, more and more families came forward wanting to help in some way. By 1:00 that afternoon, not even five hours after the phone calls had started, a group of neighbors and friends met at Marie's house to plan ways to help the neighbor's family. Someone quickly created a meal plan for the next three months, and we had more than enough volunteers to cover that time.
One neighbor handled the grocery shopping so Betty's husband and children would not come home to bare shelves. Some people discussed financial arrangements for the children's education. Others made house cleaning and yard work plans so we could step in if needed.
The group compiled a contact list containing phone numbers and e-mail addresses, and distributed it so that we could send information easily. This way, the grieving family could make one phone call to our group and we would take care of the rest. All this was accomplished within two hours. Now we had to figure out how to be helpful without being intrusive.
The entire neighborhood came together. Not just the immediate streets, not just the immediate town, but friends from all over pulled together in a matter of a few hours to help a friend, a neighbor, a mother, a wife who had touched all our lives.
This was not the first time my neighborhood rallied to help someone in the community. Neighbors plowed our snow when I was pregnant and my husband was on crutches. They fixed meals when a local mother battled breast cancer. And there have been many other times.
As I sit here and write this, a few hours after the wake, I feel blessed to live here. Should anything tragic happen to me, my family, or my friends, I know that someone will be there for us. There's no better place I could be than in my own town, with neighbors like these.
Originally published as HeroicStories #458 on Nov 3, 2003

Podcast: Play in new window | Download (Duration: 3:59 — 3.7MB)