by Laura Raymond
Palm Springs, California, USA
Recently, a friend, knowing I edit a newsletter, came to ask for help with a project her son is doing for his Eagle Scout badge. She wanted to put a notice in the paper asking for donations of toys, games and books for her son, John Scott. His plan was to give them to the children in our local shelter for victims of domestic violence and abuse. He also wanted scraps and pieces of fabric, because he wanted to make at least 25 child-sized quilts for these children so they would have something warm and soft.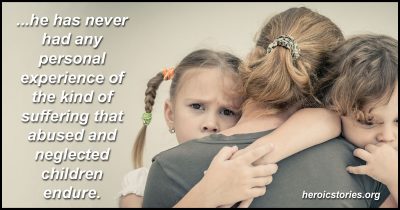 John Scott comes from a prosperous middle class professional family; he has never had any personal experience of the kind of suffering that abused and neglected children endure. Most kids and young adults, and more than a few older ones, don't have much of a sense of what it's like to be someone different — compassion and empathy seem to be rare and strange these days. But John Scott has enough sensitivity and awareness of the needs of children who come from a life so vastly different from his own that he could imagine what a difference a quilt, a toy, or some books could make to someone who has never had something made just for them. When he found out how little these children have, since nearly all of them fled their homes with nothing but the clothes on their backs, he just felt that he had to do something for them.
He thought about what the most comforting thing in his life was, and decided that it was the quilt his grandmother had made for him when he was little. He realized he could make quilts for these children, too, even though he had never sewn before. His mother was flabbergasted by his project, and supports him by driving him to pick up donations, and letting him use her sewing machine.
Once John Scott realized that he needed help to get the quilts made in time for the cold weather, he coordinated a bake sale with a troop of ten Cub Scouts that raised $300 toward the purchase of books and toys for the shelter children and, at the same time, supervised a group of 30 people from the community — men, women, boys and girls — who completed the quilts.
But that's not all: he also submitted a grant application to get matching funds for the money he raised on a dollar-for-dollar basis. Since he had already raised $400 in donations in addition to the $300 raised by the bake sale, the total came to $1,400.
He hasn't finished tallying the books and toys he received, but thinks he has almost 500 books and 350 toys in good enough shape to give to the children, ensuring that each of them can have a book and a toy or two for their own, plus a reserve for future children who come through the shelter.
Did I mention that John Scott is only 13?

Podcast: Play in new window | Download (Duration: 4:16 — 2.1MB)