by Sally M. Via
Countryside, Illinois, USA
It was around 1955 when we were living in rural Hewett, West Virginia, that my oldest brother, Jimmy Nichols, became my hero. Jimmy was 11 or 12 years old and was riding his bicycle, passing by the local beer joint in Hewett, when he heard a loud thundering noise and glanced around to discover an unoccupied coal truck, partially loaded with coal, barreling down a small hill directly toward the beer joint full of men. Some were locals, some were coal miners who had stopped on their way home from a hard day at the mines to grab a cold beer.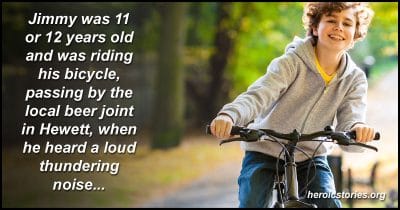 Without hesitation, Jimmy peddled his bike faster than the rolling coal truck, grabbed the handle, opened the door, jumped inside the truck, applied the brakes and the emergency brakes, and brought the truck to a halt, thereby saving many lives. He then simply got out of the truck, found a few big rocks, rolled and pushed them under the truck wheels for extra safety, and without saying a word to anyone, he quietly rode away on his bike.
He came home and didn't mention anything about it to any of us. I and my family would have never known about the incident, except for one lady living near the beer joint who also had heard the sound of the truck barreling down the hill, and looked out her window just in time to see my brother Jimmy take action. Learning from other people in bits and pieces of stories from here and there, I began to see that being a hero was a common occurrence for my brother. Yet he was never given a medal, never once said, "Guess what I just did?" He wasn't even in the newspapers until he died of a car accident at age 27.
I am sure there were many other heroic acts that nobody saw nor knew about except Jimmy himself. He will be my hero for all of my life because he taught me that a hero does not need notice, applause nor public acclaim in order to feel good about oneself on the inside. He taught me that we all should do whatever is needed to be done in an instant, without hesitation, and without expecting a pat on the back, a thank you, nor the gratefulness nor admiration and praise of others. My brother Jimmy is the only REAL hero that I ever expect to meet.

Podcast: Play in new window | Download (Duration: 3:42 — 1.8MB)