Walt Johnson
Easton, MD
After Katrina, I was lucky to be able to help with the Louisiana Episcopal Diocese's project to rehab flooded houses, and also to build Habitat-like houses for folks in Mid-City.
Driving down from Maryland, I saw the miles of devastation along the way. A bunch of us camped out on the third floor of a diocesan building on St. Charles Ave. with cots and mattresses on the floor.
One night, a co-worker and I visited a restaurant on Magazine Street. As we walked into the restaurant, a panhandler asked for a handout. "Not now," I told him. I intended to order a meal for him inside.
A waitress, busy taking orders, serving customers, and bussing tables, greeted us with a smile. "Be right with ya!" she said, and handed us menus.
I scanned the menu for something I could order for the panhandler at the door.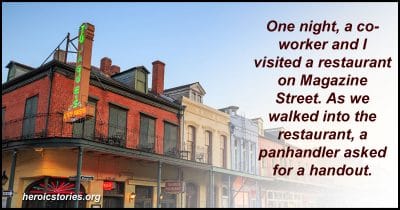 Before she came back to get our order, we saw her take a large grocery bag of food out and hand it to the panhandler. "We're all family here," she said when I mentioned it.
A couple nights later, another friend and I went to Mandina's, an old family restaurant on Canal Street—a favorite I remembered from the 60s and 70s. The line of customers wound out the door and down the sidewalk, and we chatted with a couple ahead of us in the line.
We enjoyed a delicious meal. When we asked our waitress for the bill, she told us the other couple had paid our bill. They had asked her to tell us, "Just tell them 'thank you' for coming back to help us."
New Orleans is filled with wonderful, caring people—white, Black, Hispanic, young newcomers and old timers. They're the reason people love New Orleans, no matter where they live.

Podcast: Play in new window | Download (Duration: 2:52 — 2.7MB)
Originally published as HeroicStories #879 on Dec, 26, 2016