by Debbie Decker
California, USA
My son attends Douglass Junior High School in Woodland, California. It's a big school — more than 1,200 kids in seventh through ninth grades. The school population is incredibly diverse, with many languages, ethnic backgrounds, and socio-economic levels represented. The dress and behavior codes are strict and expectations are high, which results in fewer problems at school. My son feels safe at school and seems to enjoy it.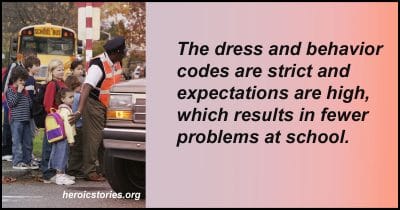 One morning in January, 2002, I received a call from Ms. Azevedo, the vice principal at Douglass. A call from Ms. Azevedo strikes fear and terror into the heart of even the most cynical and jaded junior high school parent. Ms. Azevedo is a lovely, charming woman. Nevertheless, she is regarded with a mixture of fear and dread because of her reputation as a strict disciplinarian with a "no baloney" attitude.
My son was in the seventh grade. Because he is a good kid, I immediately thought she had called because of a disease outbreak or medical crisis. I worried that he had been injured, run over, taken sick or turned blue — in the way only a Mom's mind can spin.
Then Ms. Azevedo said that Tyler had been referred to her office, and my mind spiraled off to horrifying behavior problems. I presumed that he had beaten up someone, gone berserk in class, stuffed paper towels in the toilets, something involving explosives… who knows!
But none of these issues was the subject of Ms. Azevedo's call.
Tyler had received a "Positive Referral" from Ms. Ewing, his homeroom teacher. Because of his respectful attitude, helpfulness, politeness and all-around being a great kid, he'd been referred to the vice principal. Ms. Azevedo had taken time out of her busy day to call me and tell me about this wonderful recognition.
Mr. Callahan, the school principal, started the Positive Referral program to make sure parents know about the great stuff their kids do. He aims to let us know when our kids are doing well, and not just academically.
"Positive Referrals" also let students know that both good behavior and good attitudes are valued. Each kid also receives a free cookie and is entered in a monthly drawing for a free off-site lunch. Parents are notified of their children's accomplishments by phone.
What a great way to recognize good kids and encourage parents! This call made my day, because it really is hard work, as a parent, to raise a child who behaves well. It's so hard, in fact, that some days you almost want to give up and let your children run roughshod over your rules.
Thank you all: Mr. Callahan, Ms. Azevedo, and Ms. Ewing, for being a positive voice in today's world. And thank you for helping me to realize that a parent's hard work really is worth it.
Originally published as HeroicStories #448 on Sep 29, 2003

Podcast: Play in new window | Download (Duration: 4:15 — 2.0MB)