by Twila Ingham
Iowa, USA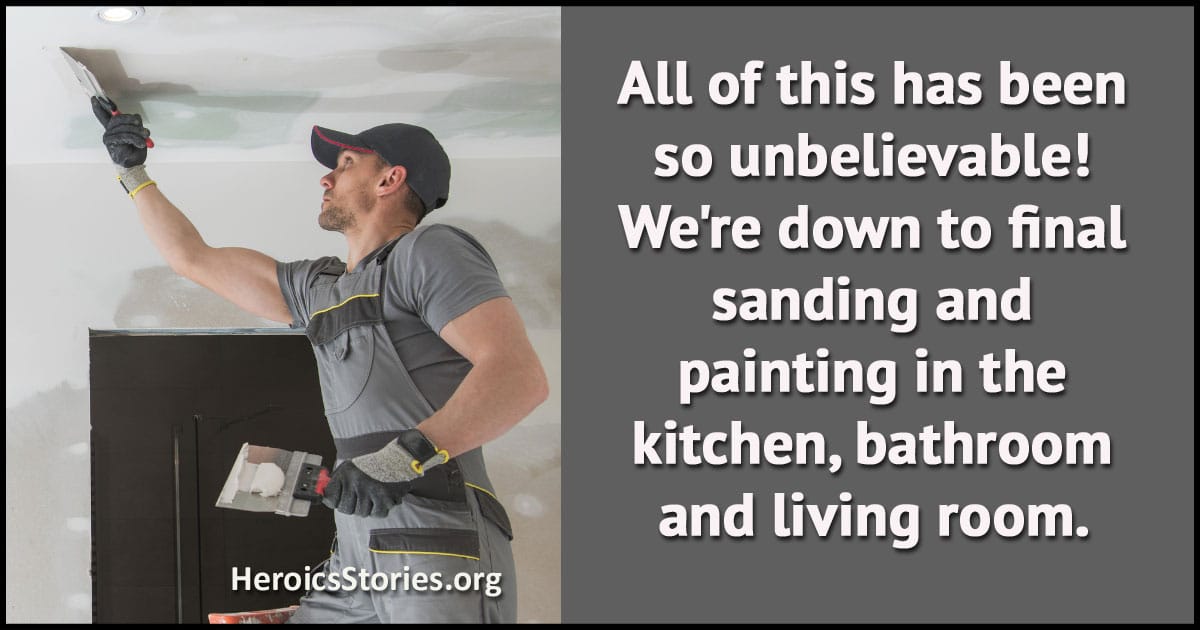 We started rebuilding my childhood home in 2004. Then my husband David fell sick. Progress on our house came to a complete standstill with no interior walls (tough to heat), no kitchen cabinets, etc.
In late October, Deb and Rose, my husband's co-workers, came by with a collection they'd taken up at work for us, and we were incredibly grateful.
About Thanksgiving, Deb and Rose called again — to say they were ready to buy building materials to finish the inside of our house. We were stunned!
They made a list and did the shopping. They bought ceiling insulation, drywall, drywall joint compound (mud), drywall tape, two windows, primer and paint.
Deb and Rose "ran the show". They scheduled volunteers from work. Since Thanksgiving anywhere from four to 14 'Angels' were in our house each weekend, working to make it a home.
The first weekend 13 people hung insulation and drywall. Some worked tirelessly for three days. Deb, Rose and Pam came that first Friday and hung ceiling insulation. Not an easy task since it was six inch insulation on eight foot ceilings.
The drywallers started Saturday. Deb, Rose, Pam, Chester Linda, Jim, Chuck (6'4″ tall and a lifesaver for ceiling work), Zhaia, Steve, Keith, Barb, Janet and Susie spent their entire weekend on this 'little' project. The next two weekends, with a couple weekdays thrown in, they returned to hang, mud, tape and sand the drywall, and put in the windows. Then Jan and Susie painted.
Unfortunately, we soon discovered the living room's exterior plywood was so wet it had molded. Deb's response was "How much and what size? Don't worry about money, we've got it covered." Steve got the plywood that night. The next day, the guys knocked down bad wood, nailed up new, then added new house wrap, all in about two hours.
Deb asked about storm doors. She indicated they had enough money for one, so she asked me to help pick one out. Then, last week another co-worker asked Deb how they were coming, because he or she wanted to donate to the cause. She said we needed one more storm door, and they donated enough money to buy it. Again, we were speechless!
Even though Chester had to work at midnight one night, he and Deb came over to hang the storm doors. The dining room and our grandson's bedroom are DONE, including paint.
All of this has been so unbelievable! We're down to final sanding and painting in the kitchen, bathroom and living room. Our 'Angels' deserve a rest and time with their own families through the holidays, so we'll pause a while.
Today I'll get out the Christmas tree and decorations. When Kaeden, our grandson, gets home from pre-kindergarten this afternoon, he and I will decorate it together. But what a different setting we're in!
What an unforgettable Christmas this is. We can't even put into words how special these people are to us.
Originally published as HeroicStories #681 on Dec 23 2006

Podcast: Play in new window | Download (Duration: 4:40 — 3.6MB)