by Kerri
Iowa, USA
It was early in April 2003, so it still got dark early. My 8-year-old daughter and I were carrying groceries from the car in the garage to the back door of our house. As we made our way across the yard, a man was standing on our sidewalk watching us. Holding onto my daughter's hand, I watched him watch us as we moved toward our house.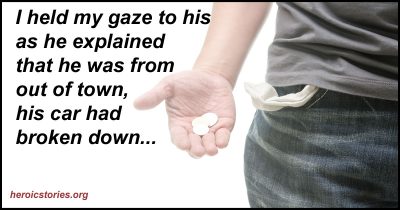 As we got a little nearer, he spoke out that he meant no harm. I told my daughter to go on up on the back porch, but she nervously huddled into my side. She knows to "beware of strangers". I held my gaze to his as he explained that he was from out of town, his car had broken down, he was trying to find an inexpensive motel, and he was embarrassed that he was forced to ask for spare change. Could I spare some change?
I live in a decent neighborhood and I've never seen anyone roaming the area for money before. I was skeptical, especially since it was dark. I couldn't see him as well as I would have liked to. He appeared to be tired and worn.
However, just a short time before that, my daughter and I had listened to the song "The Christmas Guest" by Grandpa Jones. It is fantasy song about someone needy coming to visit a man on Christmas day, three times, and his choice to aid that person. It always moves me. At the time, I tried to explain the song's meaning so my daughter could understand.
I'm a single mother and I knew I didn't have much money in my purse, especially after purchasing groceries. "The Christmas Guest" song and the message that HeroicStories brings flashed through my mind. I wanted to set an example for my daughter that it's important to be careful, but also that there are times to trust enough to be giving.
I searched in my purse. I bypassed the single dollar bills and grabbed out the only five-dollar bill that I had. I assured my daughter that everything was fine, and to wait right there. I walked toward him, wished him good luck, and handed him the money. He expressed his gratitude and continued on his way.
When we were in the house, she hugged me and told me that was a wonderful thing to do. We talked about it from every aspect, and decided that he was our "Christmas Guest" in April.
This man in need presented an opportunity that taught my young daughter an important lesson. I hope that stays with her. He'll never know it, but he showed my daughter that not all strangers are threatening, and that acting in compassion and kindness for others can be rewarding.
Originally published as HeroicStories #598 on March 11, 2005

Podcast: Play in new window | Download (Duration: 3:48 — 1.8MB)