by B. Leeann Springer
Arkansas, USA
I had a plethora of items to buy that were needed for our farm the next day; this shopping trip couldn't be put off for another time. My 4-month-old grandson was with me, as I am his caregiver. It was pouring down rain that day in April 2001, a true "April showers" day.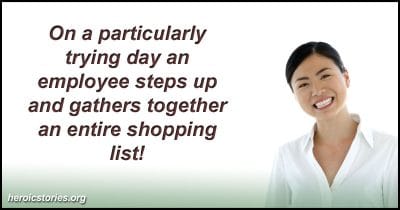 I went to a construction warehouse store in Sherwood, Arkansas. As usual with rain, I got a "sick" headache. My grandson was crying loudly and fussing, and I was about to cry more than my grandson.
Then around the corner came Mrs. Connie Atkinson. "May I help you with something?" She sensed I didn't feel well and was trying to juggle my list with a 4-month-old infant. She looked at my long shopping list, with lumber, nails, cement mix, smoke alarms, and many other building supplies.
Although she was from a different work area, she took the list from my hand, saying, "Sit down on that bench, I'll be back soon". This kind woman went to every area of the store, and collected all the supplies needed. She actually cut 2×4 lumber. Then she pushed the flatbed cart to the check out, where I paid for everything.
She told me to drive up to the loading area. Although it was still raining nonstop, she loaded all the supplies on my truck, enlisting the help of loading dock men to help with the heavy items.
I nearly cried again from her kind and generous deeds towards me — a total stranger. I asked, "Where did you get such good work ethics… and your ability to cut lumber?" She smiled, "Oh, I was raised with brothers and my dad had a shop".
This petite woman had just finished a long shopping list for me. This is not a common thing for an employee to do in today's "fast-paced and uncaring world". Most employees in such a store just tell you where certain items are located, and it's self-help all the way.
I asked, "Well, where did you get your kindness?" She simply said, "You have a nice day, feel better, and try not to do too much at one time".
A few days later I sent a letter of appreciation to the store manager commending Connie.
Weeks later I stopped at the same store; this time with a short list, no rain and no sick headache. I wanted to say hello to Connie, but it was her day off. I mentioned her to the cashier. The cashier said "Oh, you're the lady who wrote that nice letter about Connie."
I'm sure that Connie has helped so many people along the way, that she's probably forgotten me. However, I will always remember how her kindness touched me and made the world a nicer place in which to live. My next shopping list includes: We need more Connies in the world.
Originally published as HeroicStories #606 on April 8, 2005

Podcast: Play in new window | Download (Duration: 3:58 — 3.7MB)