By Linda Finkral
New Jersey, USA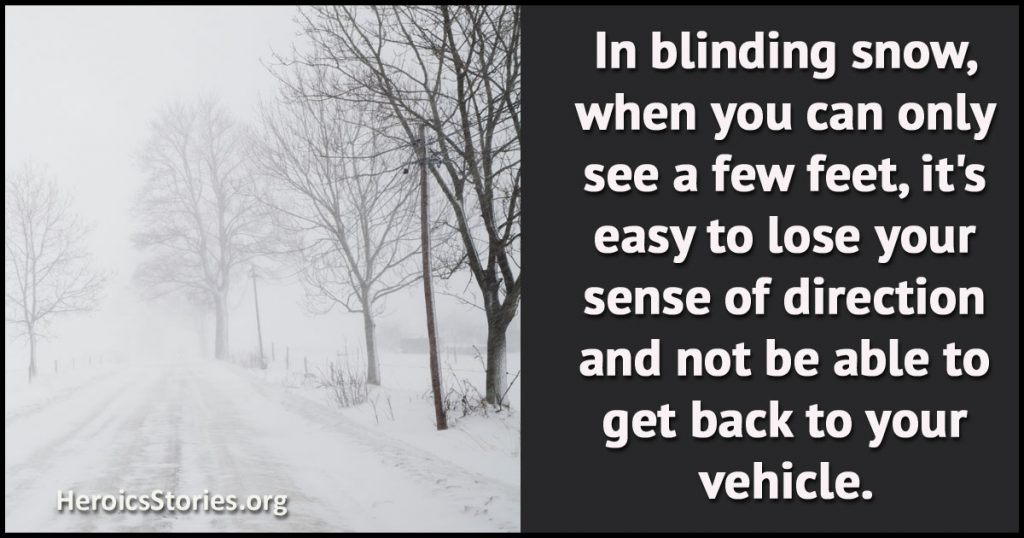 I grew up in Iowa on a farm by a major highway. During serious snow storms people often got stranded along that road. Weather prediction in the 1950s wasn't too accurate, so people had no warning to stockpile food before storms. Thus we kept enough food in the house to feed many people for days — including those stranded.
Our large house was home to my parents and 11 children, yet always had room for overnight storm "guests". We rarely knew any of them. When I was 14 one very heavy snowstorm stranded seven people at our house. By 8:00 p.m. family and unexpected guests were settled in eating popcorn and watching TV.
Through the howling wind and TV I thought I heard a thumping noise outside. I heard it again. When I opened our door, I screamed. Someone was lying there, completely covered with ice and snow, moaning incoherently. My parents carried in a small, 50-ish woman, and put her by a heat register to thaw. She kept mumbling something we could not understand. Eventually, she was able to tell us that her wheelchair- bound husband was a half mile down the road with their truck stuck in the snow.
We listened in disbelief as she described crawling along the road to our house because she knew they would both freeze to death if they stayed in the truck. Through blinding show, on hands and knees, she felt her way along the highway edge to stay in a straight line.
My parents immediately called the highway patrol to come locate her husband. They refused, saying they lacked equipment for snow that deep, that it was unwise to risk any more lives. The woman sobbed and begged my father to find a way to get her husband so he wouldn't freeze. Eventually, my father and another man dressed warmly and felt their way to a John Deere tractor with chains on the wheels.
In blinding snow, when you can only see a few feet, it's easy to lose your sense of direction and not be able to get back to your vehicle. They tied ropes around their waists and to the tractor, and made their way to the truck. With only one seat on the tractor, my father cradled the man in his arms to drive home. The second man must have stood on the rear wagon hook — dangerous in the best of circumstances.
We were so excited when they returned with the woman's husband. We were so proud that our Dad had the courage to do what he had done. For years, a large fruit or flower basket appeared at our house from this couple. My Dad taught us the meaning of "hero" that wintery night. He'd probably be surprised to know how much what he did for a total stranger still means to me.
Originally published as HeroicStories #261 on Dec 13, 2001

Podcast: Play in new window | Download (Duration: 4:04 — 3.5MB)