By Kate Hill
New York, USA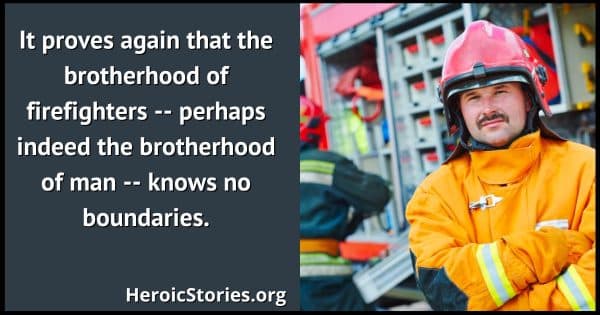 ---
Chautauqua County is a small rural county in westernmost New York state. There are 42 volunteer fire departments there. Many of the area firefighters regularly vacation in Marten River, a remote town 400 miles north in Ontario, Canada. They've become friends with the 12 members of the tiny Marten River Volunteer Fire Department.
Marten River protects a district of over 500 square miles — half the size of Chautauqua County. They also respond to emergencies on a 65-mile stretch of the Trans-Canada highway, and more frighteningly, the Trans-Canada pipeline runs through their district. Their equipment: a 3/4-ton pickup truck fitted with emergency equipment and a 200-gallon water tank. They depend on a portable pump and a nearby pond or river for more water. For more than half the year, the firefighters have to drill through over a foot of ice to reach additional water.
One Chautauqua County firefighter brought Marten River's plight to the Chautauqua County Fire Chiefs' Association meeting. They decided to "adopt" Marten River.
The community of Dunkirk in Chatauqua County had retired a fire truck, and after a year in storage it had to be moved. Used fire trucks are not big sellers. Generally fire departments hang on to their equipment as long as they can, so when they finally get funding for a new one, the old one is outdated and sometimes in bad shape.
Dunkirk's chief knew that if the truck sat outside, it would just deteriorate and end up in the junkyard. He brought his idea of donating the truck to the mayor and City Council, and they approved the transfer.
The truck's ownership was transferred to the Chautauqua County Fire Chiefs' Association in October 2001, but it was in need of work. It needed paint, tires, hoses, nozzles, batteries, hard suction, new seats, and all related fire-fighting equipment. Word went out to the local fire companies, and donations of surplus equipment came pouring in. Letters were sent to local civic organizations, and money trickled in.
Even private businesses donated. A road construction service firm took the truck on their own flatbed to their central shop 200 miles away. They stripped, sandblasted, and did body work on the truck, then applied damage-resistant, no-fade paint (at $900 per gallon), and delivered it back — at no cost. Many hours of work by a small group of local firefighters then brought the truck back to life as a true Class A pumper.
On December 14, 2001, the fire truck rode the donated flatbed to its new home. Nine firefighters accompanied the truck. On arrival, they presented it to the Marten River Fire Department, and spent the next few emotional days training the Canadians on the apparatus.
After all the help U.S. firefighters got from Canada in the aftermath of September 11, 2001, this was the least we could do to repay them. It proves again that the brotherhood of firefighters — perhaps indeed the brotherhood of man — knows no boundaries.

Podcast: Play in new window | Download ()
Originally published as HeroicStories #276 on Feb 4, 2002