by Christi Landry
Louisiana, USA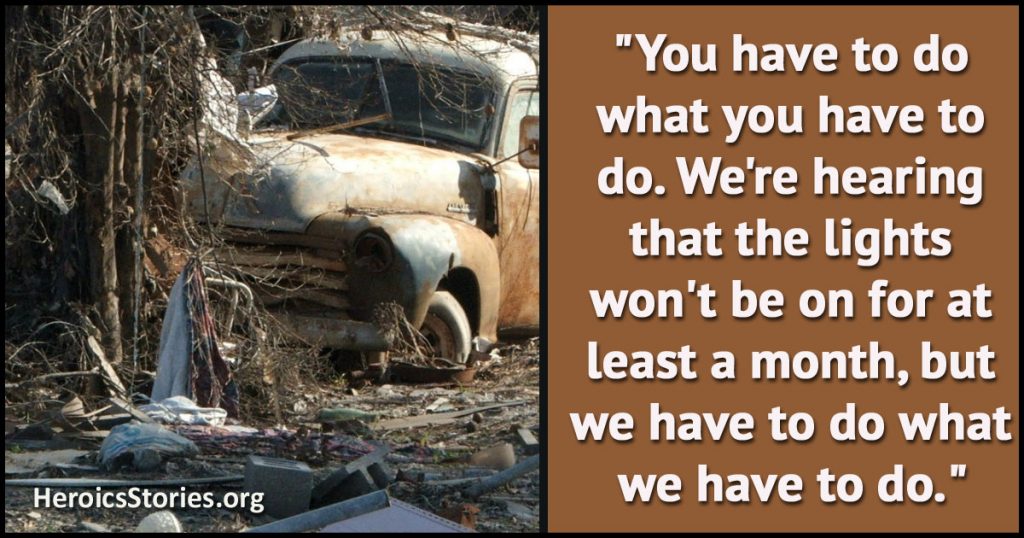 By Friday, September 2 2005, nearly everyone across the world with access to TV or the Internet had seen pictures of the devastation caused by Hurricane Katrina in and near New Orleans, Louisiana.
But some stories were harder to find — stories of real people on the ground, helping individuals in any way they could. Two women in New Iberia, Louisiana (130 miles due west of New Orleans) responded by serving others in a truly inspiring way.
Before Hurricane Katrina blew ashore just east of New Orleans Monday, thousands were forced to flee the city known as the Big Easy. Some families sought shelter anywhere they could find it.
Others left with the intention of bunking with family in other cities. With the dangerous conditions caused by Katrina, one New Iberia, Louisiana family opened its doors to 24 people, including family and strangers.
Pat Russell said her aunt, Cressie Daniels, spent Sunday night in very cramped quarters when a total of 24 family members and their neighbors from New Orleans spent the night in Daniels' two-bedroom home.
Pat said, "They had no other place to go. We don't know the neighbors they brought, but my family knows them and that's good enough."
Sleeping arrangements were tough but everyone found a spot. "Everybody was on the floor or the sofa. That's how we slept," said Russell. After the tight first night, the number of people in her aunt's home eased.
"Monday night (September 29) we had one family of seven that slept in their car in the Iberia General parking lot. I've taken those people into my house," Pat said.
With 15 evacuees still in Cressie Daniels' home and nine in Pat Russell's home, the family relied upon the kindness of the community to get through the crisis. Local eateries and stores such as Fremin's, Super 1 Foods, Domino's Pizza, Pizza Hut and Church's Chicken donated food to feed the group.
In the midst of their many kindnesses to others, the family has its own burden to bear: they are still waiting for word on a family member that did not make the trip to New Iberia.
Pat worried, "One of our cousins is 20. He stayed in New Orleans and we haven't heard from him. We don't know if he's living or dead. We're trying to connect but the circuits are down."
Although the accommodations are less than ideal, Pat said she and her aunt Cressie are just following the teachings of their family. "You have to do what you have to do. We're hearing that the lights won't be on for at least a month, but we have to do what we have to do."
"My aunt and I are on a fixed income. But that's how my mother and grandmother were. We're just carrying on the tradition."
—o—
Printed with permission of The Daily Iberian: http://www.iberianet.com
Originally published as HeroicStories #631 on Sep 2, 2005

Podcast: Play in new window | Download (Duration: 4:15 — 3.5MB)