Kaufi Delgadillo
Bozeman, Montana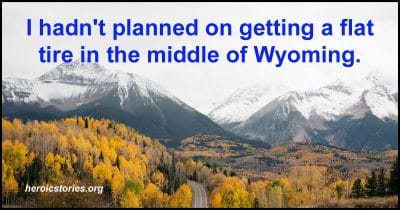 I was in the Army, stationed at Ft. Hood, Texas, and my husband was stationed at the Pentagon in Washington, DC. It was 1996 and I was 21 years old. My daughter was just a few months old, and I was still recovering from a difficult pregnancy. My husband and I were having problems and decided a split was needed.
I decided to go visit my family for a while to recuperate. I packed up my little car as full as I could get it, and loaded my tiny daughter up for the long drive from central Texas to central Montana.
Everything was going as planned, the roads were mostly clear and I had planned for an emergency with blankets, a calling card, candy, water and a first aid kit. Then the driver's side front tire blew out as I was doing about 70 miles per hour. Unfortunately I hadn't planned on getting a flat tire in the middle of Wyoming.
When I got out of the car to look, I just started to cry. I didn't know how to change a flat… and besides I had everything piled on top of the spare. The last sign I'd seen for the nearest town was some 60-odd miles away. We were in the middle of nowhere.
After about 10 minutes I saw a truck in the distance. I was uneasy about flagging them down, afraid of all the horror stories I had heard and wanting to protect my daughter. But the truck pulled over anyway, and out stepped a young man, his father and his mother.
The mother helped to calm down my daughter, while the father and son changed my tire and repacked all of our belongings. They drove behind me until we got to the nearest town. The father went into the tire shop while the mother led my daughter and me into a restaurant for a cool drink. When I got back to the car it had a brand new tire.
That family saw how scared I was and that I didn't have a lot of money, so they bought us a new tire and gave much needed comfort in my time of desperate need. When I asked for their address to send reimbursement, they refused to give one. All they wanted in return was for me to extend kindness in the future to others in need.
Now I know how to change a tire, the oil and even the brakes, so I will never be in that situation again. I wish I could see that family one more time so I could say, Thank you very much for making such a difference that day. I make sure to extend a helping hand when possible, so I can make the kind of difference that anonymous family did.
Originally published as HeroicStories #597 on Mar 8, 2005

Podcast: Play in new window | Download (Duration: 3:44 — 1.8MB)