by Rosemary Place
New York, USA
A few years ago, my family and I were driving home from our vacation in Florida to our home in upstate New York. At about 9 p.m. after driving all day, we stopped at a Wendy's restaurant in South Carolina.  We were already exhausted from driving, but still had a long way to go before we reached the hotel in Virginia where we had reservations for the night.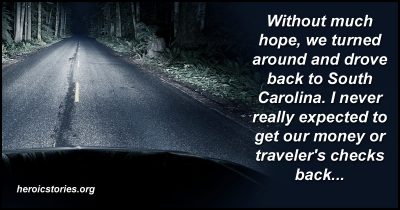 We ate, left, and continued driving. After about an hour and a half, when we had just crossed into Virginia, we realized that my husband left his belt pack at the restaurant. I had only about $20 left in my wallet; my husband had the rest of our money and traveler's checks (about $1000) in his belt pack.
Even worse, the remote for his spinal cord stimulator was in the pack, and he needed it to manage his back pain. I had no idea how many thousands of dollars it would cost to replace.
Without much hope, we turned around and drove back to South Carolina. I never really expected to get our money or traveler's checks back, but I hoped we could get back the remote for my husband's stimulator. As I was driving, and contemplating either divorcing or killing my husband, my mind raced with all of the hassles of trying to cancel credit cards and figure out how we were going to get home on only $20.
We watched all the exit signs on I-95 for one that included a Wendy's. The first one we tried was the wrong restaurant. So was the second. After a few more exits and three hours of driving, we finally found the right Wendy's.
The restaurant had already closed for the night but the crew, which consisted mostly of teenagers, was still inside cleaning up. We knocked on the door and explained our situation, and they let us in.
They had the belt pack! One of the teenaged workers had found it and turned it in to the night manager. She had inventoried the contents and locked it in the safe. All of our money, traveler's checks, and credit cards — and my husband's remote — were still inside. Words could not express our relief.
It would have been so easy for anyone who found it to take the money; luckily for us, the teenager who found it was honest. That night, my faith in young people was renewed.
Originally published as HeroicStories #349 on Oct 17, 2002

Podcast: Play in new window | Download (Duration: 3:43 — 1.8MB)