by The Husband
Maryland, USA
It began as many mornings do — far too early and far too dark. I slipped out of bed, anxious to shower and leave without waking my wife and baby. These early mornings were necessary if I was to beat the traffic through Baltimore and D.C. into northern Virginia.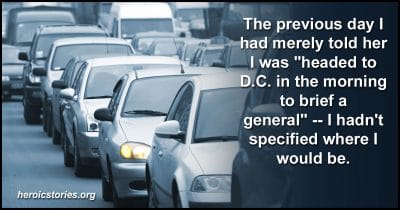 That day, September 11, 2001, I had a meeting in Alexandria, Virginia, about a mile from the Pentagon. It was on the 10th floor, in a windowed corner office with spectacular views of the Pentagon. We were close enough to hear and feel the massive explosion at 9:38 a.m.
Thick black smoke rose from the Pentagon. The Army officers present acted quickly to begin securing their area and locating their people, many of whom attend daily meetings at the Pentagon. They gave orders, and their resoluteness calmed everyone present. Clearly they would remain on the job until everyone was accounted for. My group decided to head north to our home base, past guards stationed at government buildings. Highways were at a standstill, so we headed west toward the D.C. beltway.
I tried in vain to call home to let my wife "Caroline" know I was OK, but cellular phone service was totally jammed. The previous day I had merely told her I was "headed to D.C. in the morning to brief a general" — I hadn't specified where I would be.
As Caroline changed our daughter's diaper, her sister called to say the Pentagon had been attacked. Caroline feared the worst and assumed I had been in the Pentagon. Her fears were justified, because on September 6, 2001, I had been sitting 400 feet (120 meters) from the point where the plane was crashed.
Because I left before Caroline woke, she didn't even know what I was wearing, or whether I had driven our car or a government vehicle. With no information and unable to call me, Caroline managed to contact friends from one of my previous assignments, and pleaded for help in finding me.
For hours, while I was out of contact, these people tried to locate me. They tried to reach people who might have been inside the Pentagon, to determine if I was OK. They kept in constant touch with Caroline, updating her on their progress and calming her fears.
On September 11, 2001, I saw firsthand the best and the worst humanity can do. Fairfax County and D.C. rescue workers rushed to the Pentagon. Law enforcement and military personnel immediately took up guard at other federal locations throughout the area. Their first concern was not for themselves but to keep others safe.
The faces of courage and compassion were evident in many forms both large and small that day — including in all the people who were caring enough to help a frightened wife.
I believe that the best of humanity will ultimately triumph. And I will never again leave my home without kissing my wife goodbye.
Originally published as HeroicStories #443 on Sept 11, 2003

Podcast: Play in new window | Download (Duration: 4:24 — 2.0MB)