By Jack H. Rupard
Texas, USA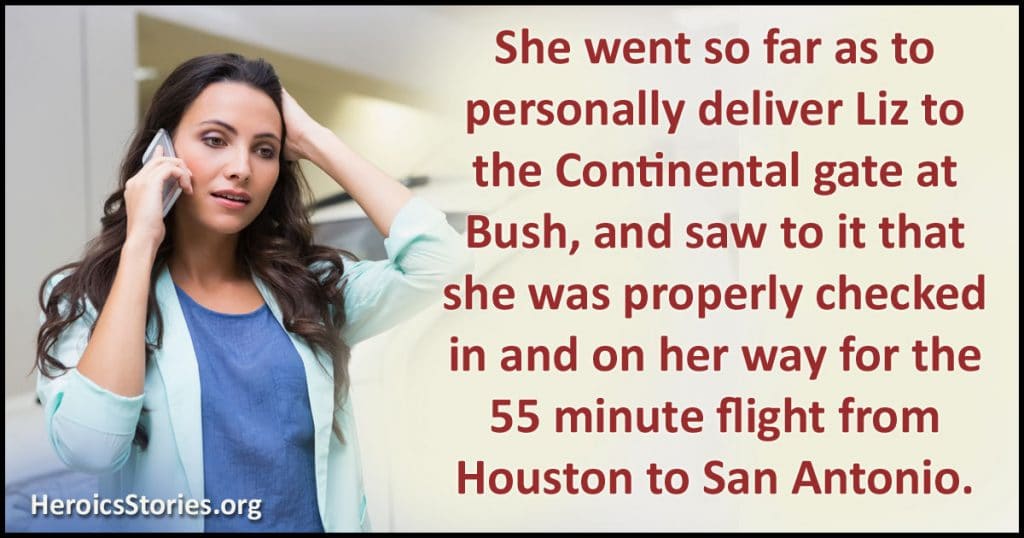 My granddaughter Elizabeth lives in Washington state. When she was a rather naive 12-year-old, she had spent the summer visiting her father near Atlanta, Georgia. Elizabeth's school was to start in about three weeks, so it was decided that she could stop and visit with us in Texas before returning to Washington just in time to start school.
Our visit would be rather short, but Elizabeth is such a joy that we savor every moment that we can share with her.
I can't imagine what the travel agent in Georgia was thinking when she scheduled 12-year-old Lizzy's flights. First she was to fly from Atlanta to Houston William Hobby Airport, arriving about 9:00 p.m. Then she was to depart for San Antonio about 11:00 p.m. from Houston's George H.W. Bush Inter-Continental Airport. However, Bush is some 25 miles across town from Houston Hobby Airport, and there was no ground transportation available between the two.
The lady who sat next to Liz on the plane learned of the situation and, sensing Liz's consternation, gave her a phone card and $10.00. When Elizabeth called us and explained her situation, we advised her to contact a police officer there at the terminal.
She did. He put her in touch with Ms Joy Fears, a Continental gate agent. Initially, Ms Fears was going to put Elizabeth in a taxi to make the cross-town jaunt. Liz had $20.00 or so that her dad had given her upon leaving Atlanta Hartsfield Airport, plus the $10.00 that her seat-mate had given her — enough for the taxi fare to Bush Airport. However, no doubt considering Liz's age and the late hour, Ms Fears decided to take a "do it yourself" approach.
First Ms Fears got a meal voucher and got Lizzy fed. Then she proceeded to round up Liz's baggage, then put both the luggage and our granddaughter in her private vehicle. She went so far as to personally deliver Liz to the Continental gate at Bush, and saw to it that she was properly checked in and on her way for the 55 minute flight from Houston to San Antonio.
We feel very indebted to Liz's seat-mate, the Houston police officer, and especially to Joy Fears for seeing that our lovely Elizabeth got to us unharmed. I sent my thanks to Ms Fears, and my daughter contacted Continental Airlines with an "Atta-Girl" for her. My daughter also gave the Houston Police Department an "Atta-Boy" for the officer who assisted Liz that night.
I know there are many wonderful, helpful folks out there who don't get recognition for their kind deeds. So I would like the world to hear about the generous actions of Ms Joy Fears, Continental gate agent.
Originally published as HeroicStories #272 on Jan 21, 2002

Podcast: Play in new window | Download (Duration: 4:04 — 3.8MB)