Nicole Koon
Arizona, USA
My son experiences social challenges due to having autism. We often see how he is different from those around him, but on one particular afternoon, we got to see how much he is the same, thanks to some amazing middle school kids.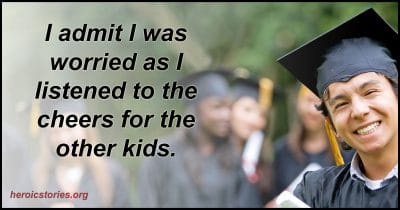 Eighth grade graduation is an exciting time for everyone. The plan was for my son to walk with his classmates and participate fully in the graduation ceremony. We knew they had been practicing, but we worried about how the procession would go. Crowds, loud noises, and echoes can cause him problems.
I followed my son to the area where all the kids were lining up, fully prepared to wait and help. I was told it was all fine and to go sit down. When the kids came in, there was my son, right in the middle of the crowd. He was distracted by us, but his line buddy got him back on track and to the right place. If you weren't looking directly at him when it occurred, you wouldn't have noticed anything happened at all.
After several announcements and speeches, each child was announced and got their completion certificate. I admit I was worried as I listened to the cheers for the other kids. Would he notice if his reception was smaller than theirs? I obviously didn't give the kids enough credit. When his name was called, all the kids yelled and cheered. If anything, it was louder than for the children directly before and after him. For not the first time that afternoon, tears filled my eyes.
The rest of the graduation proceeded as expected, and afterwards everyone congregated outside for pictures. Numerous kids gave my son a high-five or patted him on the back. He took a few pictures with his classmates and teachers and then was ready to head home.
Being who he is, my son often doesn't notice his surroundings. A large group of kids were preparing to take a picture, and he started to walk directly into the path of the camera. I called his name, but he didn't hear me. Then one of his fellow eighth graders called out to him. Smiling, this young man directed him around behind the camera, gave my son a pat on the back, and joined the crowd himself for the picture.
Through the entire experience, it was clear that this was all a normal day for everyone involved. None of these young teenagers thought they were doing anything special, including my son. And that was what made it so very special for our family.
Originally published as HeroicStories #811 on Nov 13, 2017

Podcast: Play in new window | Download (Duration: 3:41 — 1.8MB)