by Betty Frank
Ohio, USA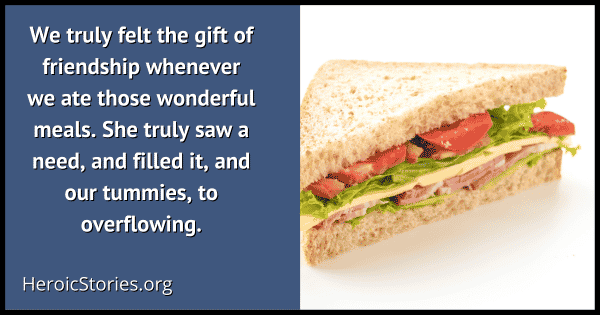 For the past 30-something years, my husband, myself, and our children, when they were growing up, have had a "truck patch". We've grown sweet corn, potatoes, red beets, and assorted other vegetables each summer and then sold them. This helped us to pay for college, cars, or whatever was needed.
After the kids grew up, my husband and I continued with this task since he is a true "farm boy" at heart. He just loves the soil and growing things.
In the summer of 2004, I was sorting the last of 200+ bunches of red beets for market. I must have looked like a drowning soul, I guess, when my neighbor and friend Dorothy stopped by. Dorothy would have been 70 at the time. She was a petite, dark-haired darling of a lady with snapping sparkly dark eyes, having inherited both her parents' Italian background.
It was about 2:30 in the afternoon, and we visited a few minutes while I kept sorting beets. She asked what I was having for supper and I said I really didn't know, I had not thought that far; I just needed to get those beets finished because we also had a lot of other vegetables to get ready for market the next day.
Dorothy left for her place about a mile up the road, and a half hour later, she was back. She came bearing sandwiches, soup, chips, pickles, cupcakes, two cans of pop, paper products and napkins: everything needed to feed two people. Dorothy said that every Thursday for the rest of the summer she would bring supper for us both because we had enough to do getting ready for market the next day.
I argued that that wasn't necessary, and thanked her profusely for her wonderful gift of dinner with not much cleanup. She insisted that the next Thursday she would appear with supper, that it would do me no good to disagree; that she was going to do this to help out.
For the rest of our growing season, every Thursday afternoon Dorothy came to our house with everything from homemade pot roast to ham sandwiches. To fully understand this, you should know that she had been diagnosed with Parkinson's disease about five years previously, although she was doing pretty well.
It was one of the most wonderfully giving things we have ever received. We truly felt the gift of friendship whenever we ate those wonderful meals. She saw a need and filled it, and our tummies, to overflowing.
My husband and I were fortunate that summer to be the recipients of such an unselfish and caring gift by one of my best friends.
Originally published as HeroicStories #706 on April 5, 2007

Podcast: Play in new window | Download (Duration: 3:52 — 5.9MB)