Faith Senie
Bolton, MA
When I became a teenager, there was a rash of stories on the news about people being killed, hijacked, or molested by hitchhikers.  Both my parents made it very clear to me that picking up hitchhikers was a Very Bad Idea.
Mom and I were driving into town on a bitterly cold winter day.  Temperatures were just barely into the single digits; it was windy, and snow was threatening.  About a mile from town, we came across two men walking toward town.  They had a working-class look about them, wearing jeans, work boots, etc.  They were both wearing jackets that looked more suitable for 30° weather.  No hats.  No gloves.  They looked miserable.
As we drove toward them, one turned and stuck his thumb out, looking hopeful.  Mom slowed, sighed, and then said to me, "Don't tell your father."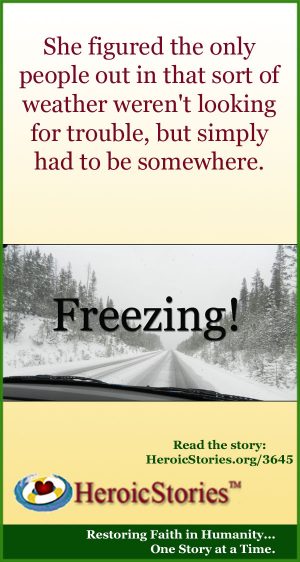 She stopped the car, rolled down the window, and told the men to hop into the back before they froze.  The two gratefully climbed in.  Mom asked where she could drop them off, and they named a spot in town that was very public, and had a warm coffee shop nearby.  She drove them there and they climbed out.  Not much conversation, but many, many thanks from the men as they climbed out of the car.  As we drove off, she said again to me, "Remember, don't tell your father!"
She figured the only people out in that sort of weather weren't looking for trouble, but simply had to be somewhere. We never spoke of it again, but I still remember that afternoon all these years later, and how my mother's compassion for someone freezing overrode her concern for safety for herself and her daughter.
Originally published as HeroicStories #872 on May 6, 2016