by Jane Adler
California, USA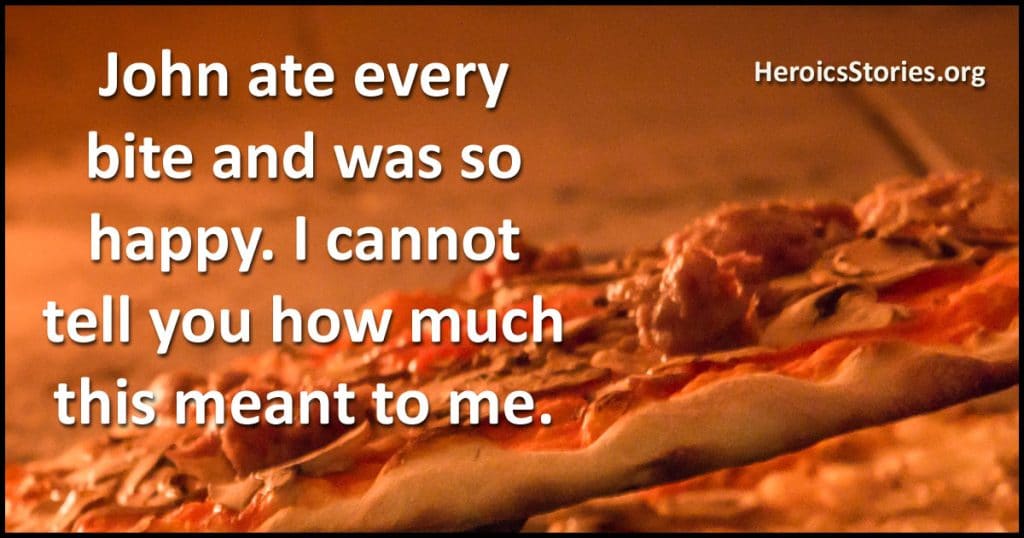 My 39-year-old son, John, was diagnosed with lymphoma in 2002, and had to undergo six months of chemotherapy. His doctors had prescribed a particularly aggressive chemo regime, so he was admitted to the hospital every three weeks. He then underwent five days of both IV (intravenous) and spinal chemotherapy.
I live in Southern California and he was in Miami, Florida. John had been building a business he was building but it hadn't been profitable yet, and of course this chemotherapy stopped him from being able to work very much. So money was definitely a problem for him and his family. We helped them financially as much as we could.
His appetite suffered greatly from the effects of the chemotherapy, so whenever he had a craving for anything, I would try to see that he got what he was hungry for. Mostly that meant mailing him a package with cookies, candy, etc., so he needed to wait for his treat.
One evening when I talked to him on the phone, he was really craving a pizza. I called information and located a pizza place in Miami. They weren't the closest to the hospital, but gave me another number. I phoned that business to get them to send him a pizza. But they had a policy regarding credit card sales that required the actual credit card be present when they delivered the pizza. Which I honestly understand.
Since I was thousands of miles away I needed to overcome this requirement, so I tried to convince the woman I was talking to. Finally she said she would do it, and took the order.
I ordered a large pizza with "the works" (all the toppings) and a couple of sodas to be delivered to him. Then, bless her heart, she wouldn't take payment for the order! The only way she could think of to overcome the credit card rule was to pay for it herself, so she paid for it out of her own pocket.
And, yes, she sent him the large pizza with the works plus the sodas.
John ate every bite and was so happy. I cannot tell you how much this meant to me. It was as if I had found a fortune. She opened up her heart and her purse to someone she didn't know and couldn't possibly gain anything from.
Unfortunately John didn't survive the chemo. He died from a massive infection — because of the chemo had no immune system to fight it off. But in the kind and generous act of helping a stranger, this woman gave a gracious gift from her heart that made his last days happier.
Originally published as HeroicStories #546 on Sep 7, 2004

Podcast: Play in new window | Download (Duration: 3:44 — 3.5MB)