By Annie Stephanski
California, USA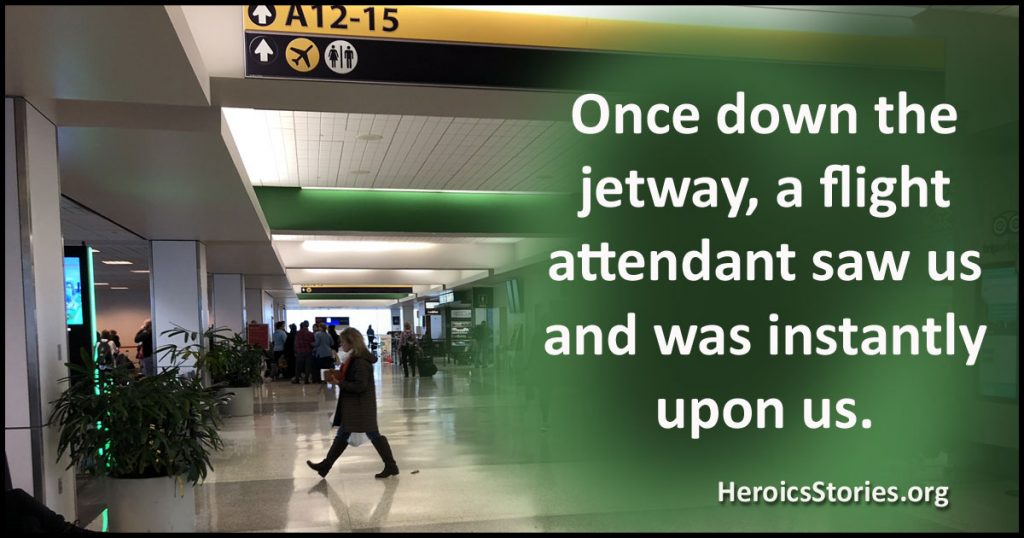 My sister and her family live on the east coast and we rarely get to see one another. During one telephone call, I mentioned that I might fly to see them during their spring break. But after the call, I changed my mind. I had a tiny nursing baby and a potty-training toddler, and my husband wouldn't be able to fly with us due to his work schedule.
There was no way — especially with tighter air travel rules after September 11 — that I could get my children and all of our gear onto and off of an airplane. However, my sister and her gang were so excited at the prospect of our visit that they cried the next time we were on the telephone together.
Then I thought of my HeroicStories newsletters, and of all the kind people out there in the world, and I decided to go ahead and fly, hoping that I'd have good luck.
Many people made our trip easier. When the officer at the metal detectors saw the two children, a double stroller, a car seat and me, he told my husband that he could get a pass to help us through security and to our gate. The airline personnel also took one look at us and wrote the pass. We had no idea that this was possible, since now you must show a boarding pass to get through the checkpoint. We had assumed I'd be on my own.
Once down the jetway, a flight attendant saw us and was instantly upon us. She took my toddler by the hand, lifted the car seat with her other hand, and saw them both to our seats. While I was folding the stroller, two other passengers offered to help.
Our seat mate, Raina, was an angel. She colored pictures with my toddler, shared her tray table with us, and held the baby while I made restroom breaks. She was helpful and kind beyond all that I'd hoped. She even carried the car seat off the plane for me when we landed.
As luck would have it, once we were on the ground my 2-year-old fell deep asleep and could not be roused. The lady across the aisle carried my sleeping toddler off the plane and placed her in the stroller for me.
Of course, my sister and her children were there to meet us with hugs and kisses. It was a wonderful visit for us all.
Without the assistance of these sympathetic strangers I don't know how I would have managed. I had visions of all three of us, myself and my two little ones, curled up and sobbing in our seats. That didn't happen because people were willing to help. Thank you to all of them, and thanks to HeroicStories for making me think it was possible to find compassionate strangers on my journey.
Originally published as HeroicStories #324 on July 22, 2002

Podcast: Play in new window | Download (Duration: 4:03 — 5.3MB)