By Penny Pennington
California, USA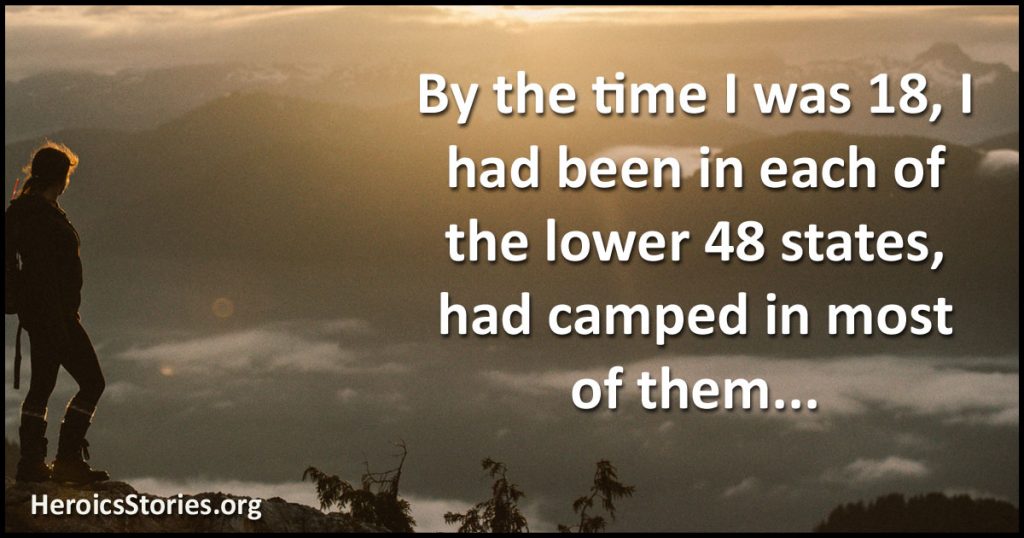 Growing up with old-fashioned, non-demonstrative parents I thought, as many teens do, that my parents didn't know how to be parents. And I thought they never told me they loved me. It wasn't until years later when as an adult I looked back that I realized differently.
Every January my mom sat down and wrote to governors of different states saying that her family would be visiting their state that summer and asking what we should see while we were there. When summer came my parents would pile my brother and me, and frequently a cousin or a friend, into the back of the family station wagon and off we would go. We would pull into a campground, set up the tent, take a walk around the area, fix dinner, and clean up afterward. Then Dad would pull out the map. "This is where we are," he would say, "this is where we want to be tomorrow. How should we get there?"
We kids would plot the route. This was before freeways, so it was often both an adventure and a learning experience. For example, I learned that blue lines on maps are sometimes bodies of water by trying to convince my father that there was an unimproved road that looked like it could be a shortcut! By the time I was 18, I had been in each of the lower 48 states, had camped in most of them, had visited almost every state capital, and had met a couple of governors.
Years later I found myself talking with friends about traveling around the country by car as a kid. I thought everybody did that every summer, because that's what I saw in the campgrounds we visited. It wasn't until I was an adult that I found that most folks had not had the same experience. I can't imagine what it must have been like for my parents to be stuck in a car with two or three kids crying out, "Are we there yet? How much farther? I have to go to the bathroom!" Not to mention the inevitable: "Make him stop looking at me!"
As we traveled, my parents were teaching us how to be good neighbors. These lessons included: be quiet after 8:00 p.m. in a campground, help the lady in the next campsite by getting her water when you get your own, and always leave a campsite cleaner than you found it.
Some years ago I was telling these childhood adventures to a friend and she said, "You were so lucky to have parents like that! How grateful you must have been!" Suddenly, I was. That evening I sat down and wrote my parents a thank you note. Whether they said the words or not, they were teaching us that we truly were loved.
Originally published as HeroicStories #265 on Dec 27, 2001

Podcast: Play in new window | Download (Duration: 3:55 — 3.7MB)