by Tom Murrell
Ohio, USA
Recently I went to the Vietnam Veterans Memorial in Washington, D.C., known as The Wall. Some fellow Vietnam veterans and I had just finished a healing weekend called the Bamboo Bridge. Those of us who could take the extra time stayed another day. We went to the memorial to pay our respects to fallen comrades, to complete our work at this sacred place.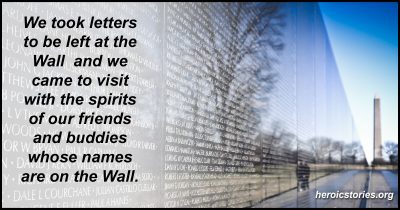 We took letters the group had written to be left at the Wall and placed in the archives, and we came to visit with the spirits of our friends and buddies whose names are on the Wall. As we were near the end of our time there, after we found the names we sought and said the prayers we needed to say, a woman came up to us. She was a stranger to us all, but shook the hand of each veteran in our group and said, "Thank you for your service."
It was 30 years since my tour in Vietnam and 25 years since I left military service, and this was my third trip to the Wall. But this was the first time anyone, other than the members of the Bamboo Bridge, ever thanked me for my service. I don't know if that woman knew anything about us other than that we were veterans. Several of us were moved to tears by her act of love and generosity. I can't thank her enough for that gift.
Once we composed ourselves, we moved away from the memorial and gathered for a group photo to commemorate our trip. As tourists do the world over, we asked a stranger to take our picture. Then another woman came up to us and said, "You guys are my heroes."
Heroes! In a matter of minutes, I received two gifts beyond price. An American thanked me for my service in that dirty war of my youth, and another American called me a hero. As a Vietnam veteran, I have been called many things — but never a hero.
This second woman asked if she could have her picture taken with us. She called us heroes, and wanted her picture taken with us! I'll bet she's never been surrounded by so many crying men in her life. I feel as if I have finally been welcomed home with honor from the Vietnam War, and I think every man and woman in our group felt the same way.
Originally published as HeroicStories #353 on Oct 31, 2002

Podcast: Play in new window | Download (Duration: 3:28 — 1.7MB)