by Clair Smith
West Yorkshire, England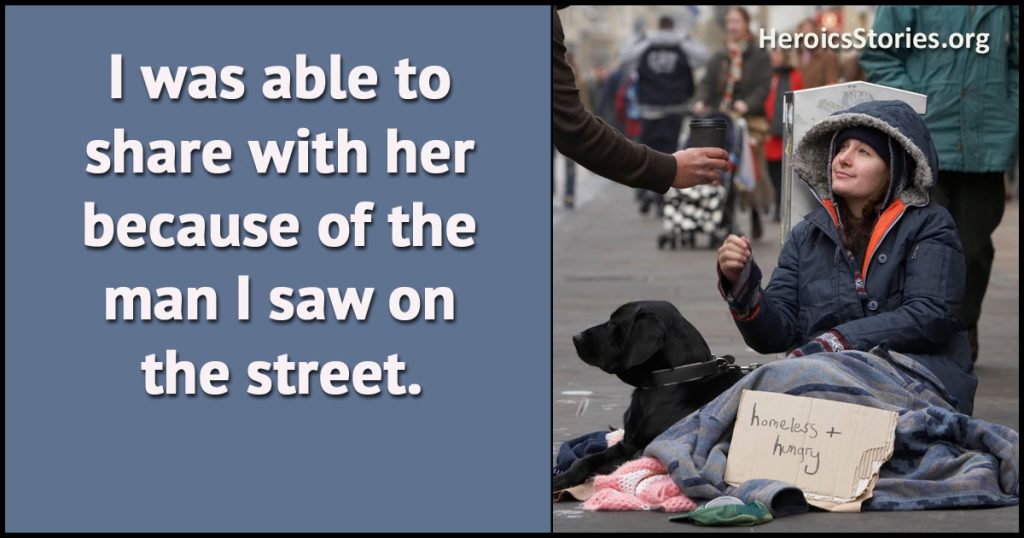 As the run up to Christmas 2002 continued I found it difficult to get into the season's festive mood. At 19 and being a university student, I can't afford to buy people all that I would like. That, plus the bustling crowds and the whole commercialism of Christmas were getting to me.
I'm a first year student at a university in England, and whenever I go in to the town centre I am confronted by numerous people begging or asking for money. I always feel terrible but tend to just scuttle by with a muttered "sorry".
I have been told various times that often the money given to people in the streets is spent on drugs and alcohol and doesn't help anybody. I don't believe this is true for the most part, but understand why giving the equivalent money to charity instead is a good idea. However, like many people, I have taken to giving food to people on the street, maybe the leftover pizza from a meal or some fruit. Not much, but something.
I went in to town a couple of weeks ago to brave the crowds in the search for Christmas presents for family and friends. As I got close to town, I saw a man, only a couple of years older than me, sitting on the pavement. He was very scruffy and if I'm honest, I felt a little intimidated by him. He was eating a burger faster than I had ever seen someone eat before.
As I approached, I saw him look at his half-finished burger, inwardly debating; he then stood up and crossed the road.
On the other side of the street was another man, older this time, but just as scruffy. Into his hands was pushed the half-eaten snack. The look of surprise and gratitude was overwhelming. Then without exchange of words the man returned. He obviously felt the other man's need was greater than his own.
In a rush, I walked on, smiling. His actions had reconfirmed my faith in people. Suddenly I had found my Christmas spirit. As I returned from town a few hours later I hoped to pass the man, to wish him a good Christmas and gave him a cup of tea I had bought for him.
He wasn't there, nor was his friend. I gave the tea to a lady I passed on my way home, she looked quite grateful — maybe more for the few brief words than the drink itself.
I was able to share with her because of the man I saw on the street. He rekindled in my mind the understanding that it is not the size of the gift, but the sentiment behind it which really counts.
Originally published as HeroicStories #369 on Dec 26, 2002

Podcast: Play in new window | Download (Duration: 3:38 — 3.1MB)