by Pat Garland
Ontario, Canada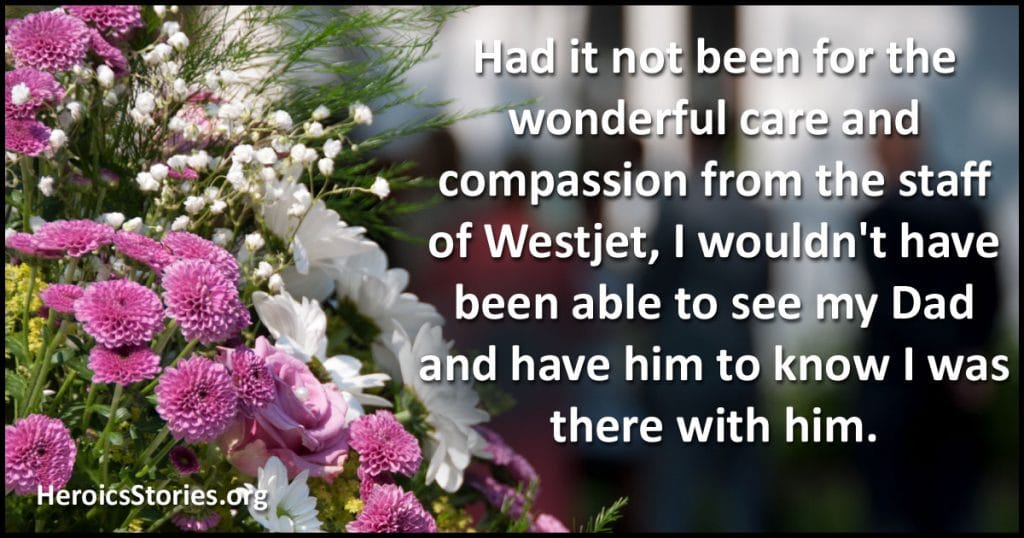 In November of 2004, I got a call from my father's doctor at 8 a.m. to get to the hospital in Brampton, Ontario as soon as possible. My father had turned very ill. Driving myself was out of the question; it would be too slow.
The quickest train would get me there at about 5 p.m., so I decided I had to fly. Now, I'm not thrilled about flying. I booked a 10 a.m. flight to Toronto with Westjet Airlines, which I had never used before, but they told me I had to be at the Ottawa airport by 9 a.m.
We got caught in awful traffic on the highway and before I knew it, it was 9:15. I called from my cell phone and they told me if I wasn't there by 9:30, I would miss the 10 a.m. flight. The next flight to Brampton was three hours later, at 1 p.m.
Driving further we got caught in construction, and in the meantime, I got another call from my Dad's doctor, saying I had better get there as quickly as possible. By this time I was a wreck — it was now 9:30 — and called back to Westjet, told them my story and they said they would see what they could do.
I finally arrived at Ottawa airport. As I hurried toward the counter, a Westjet rep asked if I was Pat, and told me not to worry, they had delayed the plane. Then they gave me a discount for the flight! They rushed me through security, and put me on the plane before anyone else with a flight attendant to sit with me.
When I arrived in Toronto I walked off the plane worrying about how I could get to Brampton the quickest. Immediately, another person from Westjet met me with my luggage and asked which hospital I was going to.
They took me to the bus stop, had someone get on with me and made sure I got to the right hospital within 30 minutes from getting off the plane. I arrived in my Dad's room and lost him 15 minutes later. Had it not been for the wonderful care and compassion from the staff of Westjet, I wouldn't have been able to see my Dad and have him to know I was there with him.
All too often we hear the complaints people have about corporate behaviour, but we seldom hear about the good things people do. I want to convey my deepest thanks for Westjet's nearly unbelievable service.
Originally published as HeroicStories #572 on Dec 7, 2004

Podcast: Play in new window | Download (Duration: 3:43 — 1.8MB)