by Heather Manwaring
Tasmania, Australia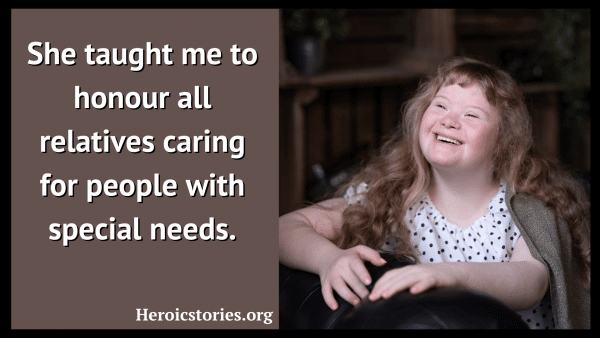 In December of 1990, I was 15 and working my first real job in a music store. My duties included pretty much everything you would expect, from shop displays to cleaning, but my favourite part was serving customers. Even though many years have passed, one lady stands out in my mind as clearly as if it were yesterday.
It was the usual Christmas mayhem; if you have ever been shopping around Christmas or if you've ever served behind a cash register, you'll understand the scene. People who would normally be bright and happy suddenly become so focused on what they are doing that common courtesy gets lost and short, sharp critical comments abound. Parents scream at their kids, kids scream at anyone going by, and tempers are frayed. "Please" and "Thank you" become just memories.
In the middle of all this, a mother and her daughter entered the store. The daughter wanted to buy something, so her mum kindly and patiently waited as she walked around and around the store looking bright-eyed at everything. Once she had chosen her item, the girl asked her mum what to do next.
Quietly, without fuss, the mother explained the whole process of making a purchase, from waiting in line to passing over the money, waiting for and checking the change that was given. This took some time, and a few people around us fidgeted and made snide remarks under their breath. The mother took it all in stride and, step by step, helped her daughter through it.
When I put myself in the shoes of the hurried shoppers who were waiting, I can almost understand their frustration. But I will never forget the smile in the girl's eyes when she made her first purchase or the look of pride in her mother's eyes.
And I will never forget her mother thanking me for treating her daughter as normal, or the way they smiled at each other as they walked out hand in hand. Mother and daughter. As they reached the door they turned and called "Thank you." I answered with "My pleasure."
If only they knew how much I meant those two words, for that was the day I learned something new: people who are impacted by birth differences such as Down's syndrome are not just those who are born with it. Brave parents and family members must cope not only with any difficulties their relative has, but surmount the prejudices so often shown these children.
I was so impressed with this mother for her courage to put her daughter's needs first. She taught me to honour all relatives caring for people with special needs. They often go unnoticed and unthanked, yet deserve our deepest congratulations.
Originally published as HeroicStories #453 on Oct 16, 2003

Podcast: Play in new window | Download (Duration: 4:02 — 3.2MB)