by Bruce McCormick
Mississippi, USA
My wife, three young daughters and I were starting dinner at 7:00 p.m. on Oct. 21, 2001, when I smelled a hint of smoke. As my wife's candles had caused this before, I wasn't alarmed, but started looking around. Coming back from the kitchen the smell was stronger. Suddenly my wife and I both noticed a thin haze near the ceiling of the family room where we were eating.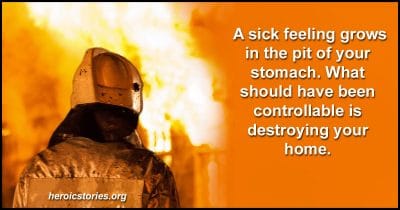 Against everything I've been taught, I opened the laundry room door. Two feet of black smoke rolled from the ceiling with a roaring fire several feet away. (The fire could easily have been embedded in the smoke, I was fortunate.)
Our small kitchen fire extinguishers were worthless against the blaze; with a larger extinguisher we could have stopped it. I called 911 and cleared everyone out of the house.
Adrenaline flows and you feel like you're not watching reality. You smell smoke. You hear the loud popping of things breaking inside as the fire grows. You watch firemen climb onto the roof and cut holes with chainsaws. As fire leaps from new holes it created in your roof, a sick feeling grows in the pit of your stomach. What should have been controllable is destroying your home.
In the midst of this surrealistic horror something incredible happened. I have no explanation for what happened, as I'm reclusive, not someone who associates easily with others. People from the neighborhood started showing up with clothing. One family took our daughters in. Another took in our two big Labrador dogs.
People we'd never seen brought us coats, a chair for my wife, food to eat, a sweater for me. One family gave us a piece of paper with a prepaid hotel reservation — something I'd not even thought of.
Over several weeks more families — some we knew, most we didn't know — prepared dinner and brought it over. They lent and donated furniture for our rental house, gave us clothing, provided toys for our children, and some included us in their prayers.
Unknown individuals and groups took up collections and sent us money. Though so very embarrassing to accept, it was so very welcome, for we were not in the best financial state, and our insurance firm wasn't easy to work with. We had to bear implications that we could've started the fire ourselves from the insurance company investigators.
I learned what emotional shock means. Often I would cry just describing the situation to people. I had no comprehension of the kindness of friends and strangers until this happened. I had done nothing to deserve this kindness. Their outpouring was from their hearts, and at their expense — just to help. I can't thank them all personally for some I never met, but I am so thankful for them, they were our angels.
I have learned a lesson of human spirit and what is in the hearts of mankind: a lesson to be remembered forever.
Originally published as HeroicStories #412 on May 27, 2003

Podcast: Play in new window | Download (Duration: 4:04 — 3.9MB)