by Paul Krog
Iowa, USA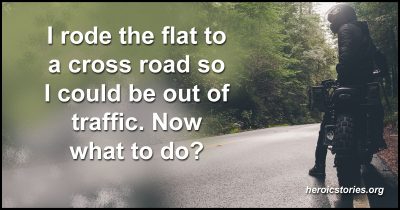 It was late at night and I was headed to my home in rural Iowa from a long visit with an old friend. I was riding an old motorcycle I had gotten from another friend. I knew nothing about it, as I had ridden Harleys for 30 years and this was a Japanese bike.
One thing I did know was the smell of rubber when a tire is going flat. It was dark out, getting cold, I was doing 60 miles per hour, and the front tire was going flat! I got the bike stopped and off the road.
I rode the flat to a cross road so I could be out of traffic. Now what to do?
I had no cell phone, and saw no lights in the home nearby. So I sat in the dark and wondered how I was going to get myself home let alone the bike, being still some 25 miles from home.
A car came up from behind me, but I could see it was two young girls, so I knew they would not stop. After a little while, more lights came up behind me. This time it was a truck and he did stop.
He asked if I needed help and I told him I had a flat tire and asked if he had a phone I could use. His phone was dead, but he had a trailer on behind the truck and offered to take me to a small town near where I lived.
So we loaded the old bike up on the trailer and I got in his truck, grateful for his help. His daughter and his son were with him. His son was about three or four years old, and full questions for me. His daughter had to ride in the back seat.
They took me to the small town, and he asked if I knew anyone there to take me home. I told him No, but there was a phone so I could call someone. He thought about it for a moment and said he would just take me on home.
He helped me unload the bike, would not take any money for the trip, and would not give me his address so I could send him some money. I thanked him many times, and then he got in the truck and drove away.
He did not have to do any of this, but he was a good person and helped someone in need. A total stranger picked my bike and me up and took me some 25 miles out of his way to my house. There are still good people in this world. I know, I found one, or should I say, he found me.
Originally published as HeroicStories #787 on Feb. 1, 2010

Podcast: Play in new window | Download (Duration: 3:25 — 1.6MB)