by Sara Ruiter
Minnesota
In 2002, I started a job that required regular travel around the U.S. After six months, I had a couple of trips under my belt and had earned my solo wings; next I would be traveling to three states for business meetings and then flying to a conference in a fourth state.
On day three, I was in my third state and had wrapped up my business meetings for the day. I checked into my hotel and headed out to a local outlet mall—typical for a visitor to New England. While in the first store, my cell phone rang, and I could see it was my sister. I knew something must be up, because I only turned my cell phone on when I traveled, and other than business contacts, my husband was the only one that knew my number. My sister asked me where I was and if I could find a place to sit down. I walked outside the store and sat down on a bench beside the parking lot.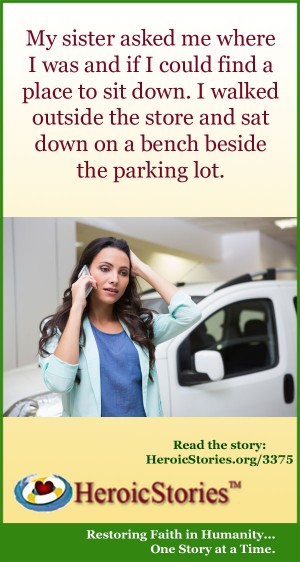 She proceeded to tell me that our father, who had been away on a business trip that week, had come home to find our mother dead in their bed. My mother was a 54-year-old working woman who had already had beast breast cancer. This was unexpected and devastating news. When I hung up the phone, I was distraught, sobbing, and thoroughly confused. I was alone in a state I had never been to, had just received the worst possible news, and I felt lost. I started wandering around the parking lot, struggling to remember what my rental car looked like. A woman approached me and asked me if I needed help.
She listened to me babble incoherently, hugged me, helped me find my car, stayed with me while I called my husband, and gave me her phone number in case I needed help later that night. When she told me her name, Serenity, it was like a warm blanket had enfolded me.
Within two hours, I had changed my flight, checked out of my hotel, turned in my rental car, and was on a plane headed to my birth state. I didn't even call my dad until I had all of the details worked out, including a ride to his house from the airport. The next morning, my dad called this woman to thank her for helping me. She wanted to speak to me, and asked me to tell her a story about my mom. I told her about a car trip we took to the Shakespeare Festival in Stratford, Ontario, where my mom couldn't decide which shoes to wear before we left. We made a pitstop about half way there and when mom climbed out of the van, she was wearing two different shoes! Serenity suggested that I wear two different shoes on my mother's birthday to remember the fun we had together, and I have done so every year.
I often wonder if I would have the strength to approach a crying stranger in a mall parking lot. I don't know what I would have done in her shoes, but I am so thankful she was there.

Podcast: Play in new window | Download (Duration: 4:16 — 4.0MB)
Originally published as HeroicStories #871 on March 14, 2016