by Justin Masters
El Dorado Hills, California, USA
In sixth grade, I was transferred into Jim Sanderson's class — the new teacher at the school. It was "the west side", to those who lived on the eastern side of Salt Lake City, Utah. It was filled with people of color and a multitude of nationalities. We lived there because we were poor — my mother divorced, with four kids. And back then, being divorced in a predominantly family-oriented Mormon mecca was akin to the scarlet letter being placed on our foreheads. Something was wrong with you if you were in a divorced family.
Jim earned the respect of his students and encouraged them to excel by offering prizes to those who were willing to stretch their minds and solve those tougher problems in our school books. I was eager to please him, as he gave a ray of kindness to a boy in a fatherless home filled with a desperate sort of tension: how to get by month-to-month.
In return for my efforts in solving math problems, he treated me (and a few classmates) to a one-on-one meal across town. It wasn't fancy, but for a poor kid, eating out (even at a small deli) was a treat! He took some time to get to know me, asked me questions about myself, my family, and asked if he could help.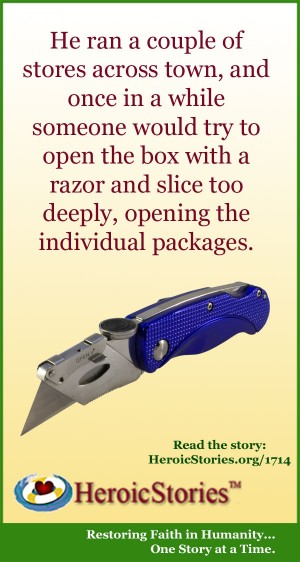 I was too proud to show him what he must have already known about the condition of our family and finances. I admired him, and didn't want him to think any less of me for admitting that I needed help. "We're okay," I lied. But he came to our door one day, a big packing box full of cereal. He said he ran a couple of stores across town, and once in a while someone would try to open the box with a razor and slice too deeply, opening the individual packages. He couldn't sell them, and thought we could use them.
He couldn't begin to imagine.
Macaroni and cheese …that was our favorite! And it disappeared almost as quickly as it had appeared. Oatmeal, cake mix, flour, etc. And more seemed to come all the time.
Well, I hope he fired his boxboy! He must have been the most incompetent help he had ever hired, what with all the boxes of food with slits cut in them that came to our house! But as I thought back on it years later, I realized he must have cut a number of boxes himself. It must have been the one way a family was able to take food from someone and still let them retain their dignity. He knew how to reach out to others and in the process help them grow.
He taught there for a few years more, probably helping others as he helped myself and our family. And then he was gone. A heart attack had felled this gentle man, and took a small part of my heart with him.

Podcast: Play in new window | Download (Duration: 3:43 — 5.2MB)
Originally published as HeroicStories #18 on June 12, 1999