Pam Williams Angerhofer
Burr Ridge, Il
My sister's friend since preschool was getting married, and I had been invited back to my hometown to her bridal shower. I set out with my two-month-old son from my home in the Chicago suburbs to make the 135-mile drive through the cornfields of central Illinois.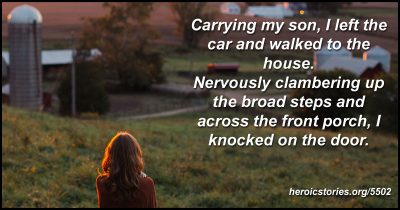 I was about fifty miles from my destination when I rolled up to a stop sign at a lonely intersection deep in farm country. Instead of the quick stop-and-glance-both-ways that I expected, however, my car died and would not restart. There I sat.
Surveying my situation, I saw that there were no houses at the "T" intersection, but there was a well-kept bungalow about a block behind me. A prominent sign declared an Angus cattle operation.
Carrying my son, I left the car and walked to the house. Nervously clambering up the broad steps and across the front porch, I knocked on the door. A couple preparing to sit down to dinner peered curiously out at whoever was approaching their seldom-used front entry. The lady came to the door, heard my tale, and immediately invited us in.
She introduced us to her husband, who asked some rudimentary questions and said he would take his tractor and tow my car back to his yard. In situations where a stranger has to work on my car, I am usually uneasy, because helpful folks can do more damage than good, and I was driving a foreign car at a time they were somewhat uncommon. However, I felt I was in good hands with the farmer and his mechanical experience.
First, the lady of the house (in those days before cell phones) told me where to find her telephone so I could call my parents for a ride. When help was on its way, she set a place for me at the table, insisting I join them for dinner. While we ate, she explained they were on their way to a square dance, but we were welcome to stay until our ride arrived, and would I turn out the lights but leave one burning over the sink!
The farmer told me my car would be no trouble in his driveway until my husband could come for it, whenever that turned out to be. The couple would take no money for the long-distance phone call, the hearty meal, or towing and storage of the vehicle. And they left a complete stranger in their house!
The groom-to-be was sent to pick us up—an hour trip each way. We reached my hometown too late for the shower, but safe at my parents' home until I could get a train back to the suburbs.
For years afterwards, I sent the farm couple a bushel of fruit in an attempt to repay their kindness, until they moved and I lost track of them. But no amount of payment could compensate them for the faith in humanity their trust and generosity inspired.
Originally published as HeroicStories #887 on Dec 8, 2017

Podcast: Play in new window | Download (Duration: 4:01 — 2.0MB)