by Bunny Chaney
South Carolina, USA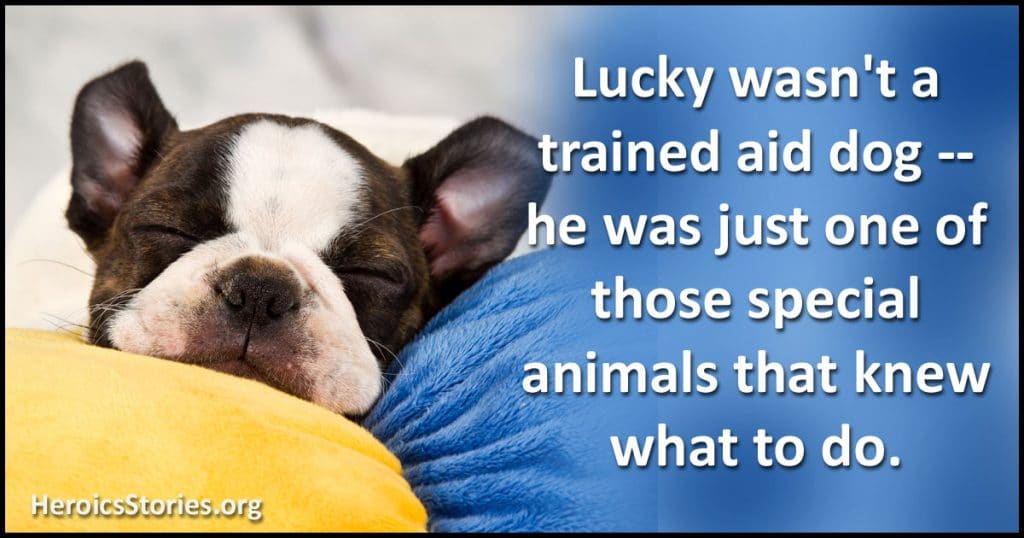 My son and I had been looking for a Boston terrier for months when we found one in 2002. He was emaciated, and both looked and smelled near death. I thought the man who had him should be strung up for treating an animal that way … until he told us the story of Lucky, a black-and-white Boston Bull Terrier with a funny pushed-in face and big sad eyes.
Lucky had been owned by a man, "Fred", who had a mental disorder that required he take medicine. This medicine made him sleep quite deeply, so Fred only took it at bedtime. Lucky slept by his side.
One night, Fred took his medicine, went to bed and fell sound asleep. The house wiring shorted and caught the house on fire. Being under the medicine's power, Fred just continued to sleep. Lucky barked and barked. Fred didn't hear him. Lucky wasn't a trained aid dog — he was just one of those special animals that knew what to do.
When Lucky realized Fred wasn't waking up, he jumped into the middle of his chest and started licking his face. Fred finally began to wake up and realized the house was on fire. He crawled out the bedroom window.
Once outside, it took a minute for Fred to wake up enough to realize he had left his dog behind. He reached through the window and grabbed Lucky, pulling him to safety.
After the fire Fred had to move into an apartment where he couldn't have animals. So he placed Lucky with a friend of his — with the intention that a good home be found for him. My son and I saw an ad in the paper offering Lucky for adoption to a good home, and called. Although he was in another city, it wasn't far away so we took the drive to check him out. Despite, or perhaps because of, his condition, we brought him home.
We've had him just under two years now, and he is four years old. Lucky inhaled enough smoke the night of the fire that his bark will never be normal again. He sounds like he has a throat full of pea gravel, but he has the spirit of a lion.
Lucky sleeps with me now. If the least little thing happens that is not normal, Lucky jumps on me to make sure I wake up to check it out. I admire Lucky, I'm proud to have him around, and I'm looking forward to many more years with this  brave and worthy companion.
Originally published as HeroicStories #521 on June 3, 2004

Podcast: Play in new window | Download (Duration: 3:39 — 3.4MB)