by Guy Slater
Tennessee, USA
My wife and I moved to the Cumberland Plateau of Tennessee in November of 2005, from a large metropolitan area to a very rural area. While moving we had the help of our adult daughter and our 2-year-old granddaughter.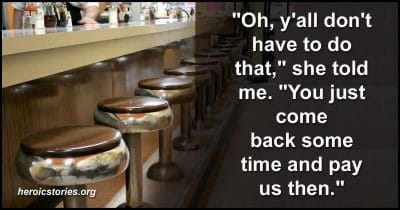 During the hectic days of moving into our new home, we ate out in the local community a lot. One evening we decided to have dinner at "Cindy's Catfish Kitchen."
Cindy's is a buffet style restaurant, all you can eat. It had been a long day of moving boxes and furniture, and tomorrow would see us on the long drive back to our former home for another load, a thousand mile long trip. We were all tired, and our granddaughter was cranky to top it all off. But the buffet was great, and we ended our meal feeling rested and relaxed.
When I went to pay our bill, card in hand, the waitress cashier told me that Cindy's didn't have the ability to take either credit or debit cards. Being from the "big city," using a credit or debit card was the norm. Oops!
I had no cash in my pocket, but about 10 miles back down the road I'd seen a bank with an ATM. I told the lady that I would leave my family there and return in a few minutes to pay for our meals.
"Oh, y'all don't have to do that," she told me. "You just come back some time and pay us then."
WHAT!? These people had never seen me before, did not know if I would ever return, yet they trusted me to return to pay for three adult meals? This is not something that I had ever encountered in the big city, that's for sure.
We have lived here for almost six years, and every single week I see other acts of trust like this happening. It may be a "country" thing, or just plain Southern hospitality.
Whatever it is, I certainly like it, and I pass on this kindness every chance I get.
Originally published as HeroicStories #837 on Oct 4, 2011

Podcast: Play in new window | Download (Duration: 3:12 — 1.5MB)