By Diana Karol Nagy
Gainesville, Florida, USA
This past holiday season did not turn out as expected for our family. We had relatives from Germany visiting our Florida home; our plans were to take all the kids to Disney World and Universal Studios in Orlando. However, a few days before Christmas I developed excruciating pain in my neck, left shoulder, arm, and hand. After an agonizing wait, an emergency MRI scan disclosed that I needed immediate neck surgery for two herniated disks.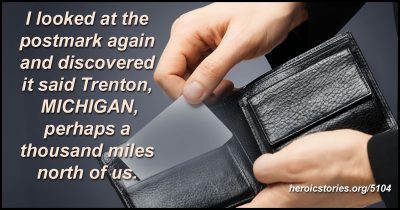 After much discussion, we agreed that my German sister-in-law would take her two daughters on the Orlando trip, and my husband's brother would take my two sons. After all, there really wasn't much they could do sitting around our home. My adult daughter and my husband stayed so they could be with me.
The surgery went well, thankfully, but the Orlando crew met with a mishap. My 14-year-old son took some of his Christmas gift money with him on the trip, and while there lost his wallet. They did look in the lost and found for it, but it was never turned in.
In early January I received a small brown package in the mail postmarked Trenton. Vaguely thinking it might be a get-well gift from an acquaintance in nearby Trenton, Florida, I opened it to find my son's wallet. I was so shocked! Everything was in it, including his school ID (which had no address), a check I wrote that he was supposed to have turned in at school, and even the cash (minus what he finally admitted he spent).
I looked at the postmark again and discovered it said Trenton, MICHIGAN, perhaps a thousand miles north of us. There was an anonymous  note enclosed which said that the people sending it had found it while on vacation. They were concerned it might not find its way back to a young student if they turned it in, so they kept it and mailed it to me at the address on my check from their home in Michigan.
The note ended "Hopefully you are his mother or aunt or some other relation to him, to see to it that he receives it. I hope that your vacation was as fun and relaxing as ours." It was signed "Just vacation people".
My son has learned a lesson, maybe more than one. We are going to frame the note and put it up on the wall in his room as a reminder. We have always taught our children: when you find something that is not yours, please try to put yourself in the position of the person who lost it, and return it. This incident put the shoe on the other foot and really sent the lesson home.
I hope these very kind people read this and realize how wonderful it was for us to learn there are honest people left in this world. From my family to theirs: many, many thanks!
Originally published as HeroicStories #307 on May 23, 2002

Podcast: Play in new window | Download (Duration: 4:05 — 1.9MB)