By Kirby V. Nielsen
Columbus, Ohio USA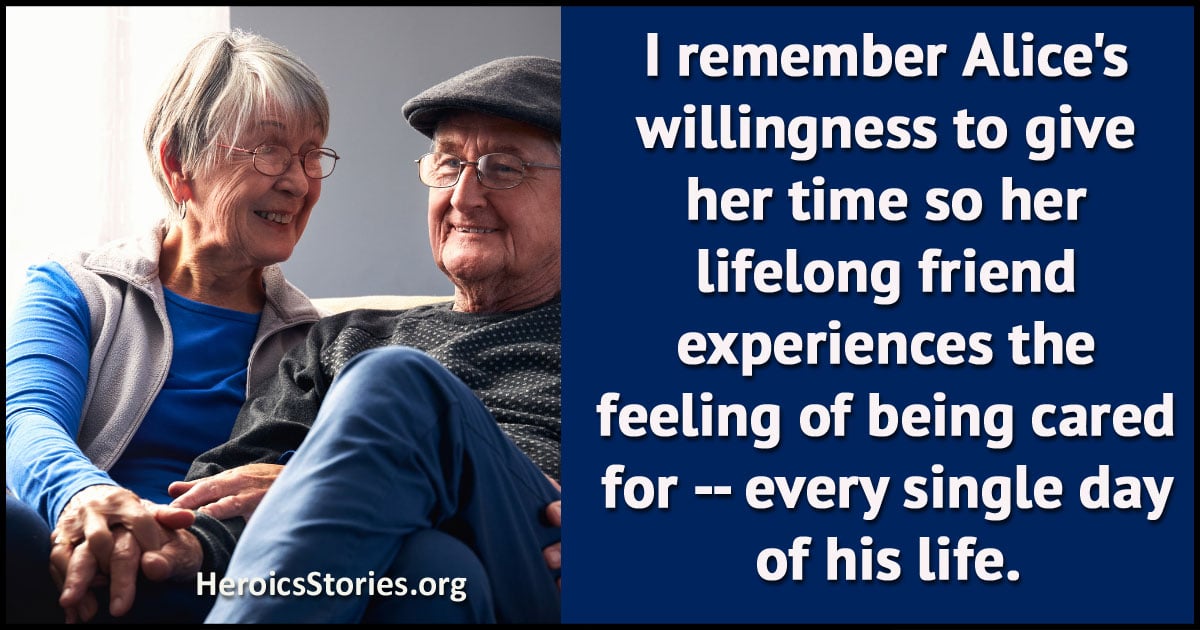 My mother-in-law has been in the nursing home for two years. Every day either my father-in-law, my wife, or I go visit her to make sure she is properly fed, dressed, and comfortable. It was there that I met a remarkable woman I'll call "Alice". I noticed Alice after my father- in-law mentioned that she was an interesting person. She's a very well- dressed woman in her 70s with an aura of intelligence and charm, which complements her direct approach to life.
As I talked with her an amazing story began to unfold. Many years ago she made a simple promise to a man who was afraid of getting Alzheimer's disease: "If you ever get Alzheimer's, I'll take care of you until the day you die."
When Alice made her promise, she didn't know what keeping it would entail. She now comes to the nursing home each day to visit "Lenny". She does so even though he doesn't know Tuesday from October. He is poor, old, and in the advanced stages of Alzheimer's. He has no family to visit him and no money. He has nothing left but the clothes on his back, an old record album, and Alice.
Lenny doesn't say more than a few phrases. He can't walk, feed or dress himself. He doesn't seem to remember anything. All he does is sit in his wheelchair and repeat one or two phrases over and over, hundreds of times a day.
Alice has come to see Lenny daily for the last four and one-half years, driving 17 miles each way. She stays until she has fed him his evening meal, and made sure he is clean and comfortable. She also buys his clothes. Only the occasional day finds her absent from the nursing home. Perhaps in those few days she takes care of her own life.
One might be tempted to think Alice is Lenny's wife. But she isn't — she is his friend. When the rest of Lenny's world disappeared, Alice stayed with him just as she had promised she would. She is as faithful to him as any person could be to another. When you talk to Alice, with pride in her eyes she tells you about Lenny, who in his prime was a well-known local musician. She will play for you his record album — which Lenny and his band recorded many years ago. Although it was the only record he made, it is in fact a good one.
If I am ever tempted to believe that the virtue of faithfulness is forgotten, I remember Alice keeping her promise with steadfast devotion and kindness. I remember Alice's willingness to give her time so her lifelong friend experiences the feeling of being cared for — every single day of his life.
Originally published as HeroicStories #249 on Nov 1, 2001

Podcast: Play in new window | Download (Duration: 3:55 — 4.3MB)