by Joyce Schowalter
Seattle, Washington, USA
My Aunt, Hildred Dungan, was born in 1898 on a farm near Sedan, Kansas. Her family believed in hard work, education, honesty, and service to one's community. To attend high school, she "boarded out" in a nearby town — it was too far to travel daily on horseback.
When Hildred retired after a career in Colorado, she moved back to Kansas, to a duplex next to an elementary school. She volunteered to tutor children needing help in reading or math. At first she was sent sixth-graders. She solved kids' problems backwards through the grades, until at last she tutored first-graders.
When one of her Black students arrived upset over being called racist names, she held her own hand up to a white page, pointing out that it was pink, not white. She then held his hand up to a black object, pointing out that it was brown, not black. Her message: "Those silly names are not reality. NEVER let them distract you from your potential!"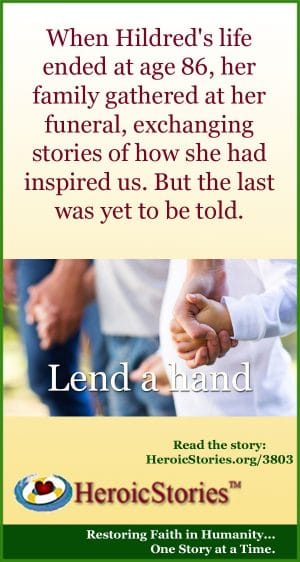 One morning a neighborhood girl came crying to Hildred's door. The little girl had fallen and ripped the leaf for her school clay project. My aunt showed her how the leaf could fit together again, and the child left for school smiling. The finished clay leaf came back to Hildred, and was displayed in her living room.
For her nieces and nephews, she was a magical figure. She discussed the most complicated ideas with us at length. She always said, "I'm so impressed with how you're growing up!" She gave the impression that our parents and teachers were perhaps a bit addled if they hadn't noticed we were growing into "such fine young people."
When Hildred's life ended at age 86, her family gathered at her funeral, exchanging stories of how she had inspired us. But the last was yet to be told.
After the service, a man came up whom none of us knew. He had been in the front row, with his wife and daughter. He told us Hildred and his father had worked together in Colorado. After both his parents were killed in an accident, he was sent to live in an orphan's home. Hildred didn't just go to visit him, but became an ongoing presence in his life. She told him he needed to be strong, to have courage, that he could overcome this tragedy and build a positive future. And there he was, living proof of her inspiration.
If Hildred could give you one message today, she would say, "There IS a kid near you who needs a hand. When you find him or her, don't look back, or wonder for a second why someone else isn't helping. Be present in that child's life, help them to have courage, and inspire them to face the future with a desire to learn, work hard, be honest, and be of service to their community."