by Brandy Pickering,
Ontario, Canada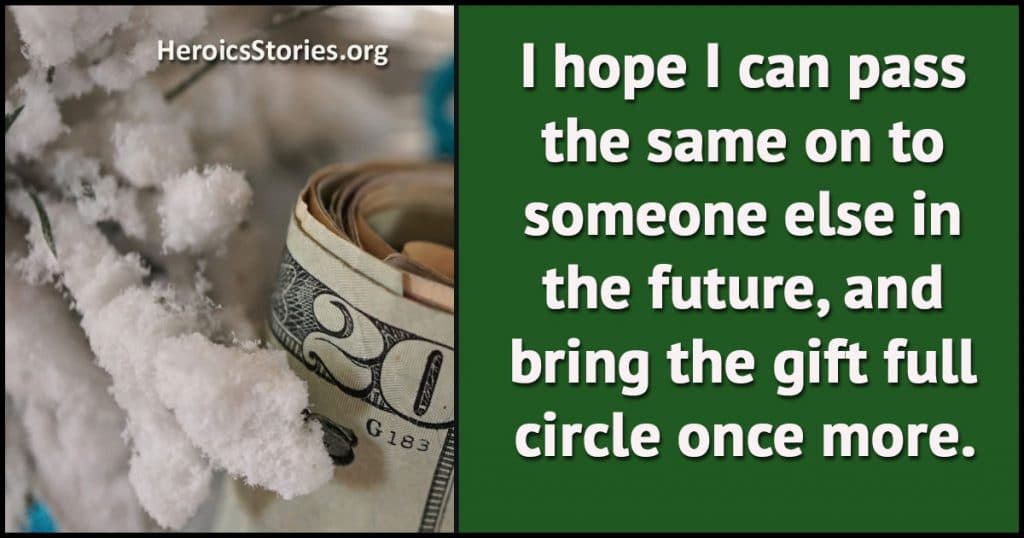 Helene and I became work acquaintances several years ago. We shared breaks, and from there a friendship grew. We had much in common and confided in each other sharing both our good and difficult times.
We are both smokers (and yes, we know it's not the good thing). Our company has provided a shelter for smokers. During winter we all huddle close to keep warm and laugh and share stories. Our smoke break group has become friends. Even though we're not all of Christian faith, December 'tis the season to talk of Christmas. We discuss who we're buying for, where we'll be, what we'll cook for Christmas dinner. When the subject came up, one year I tried to smile and laugh, but inside I cried. Because of a car accident, there was no money to spend for gifts. This was the first Christmas I truly had no money, not even credit.
One day when the Christmas topic came up, my comment was "All I'm able to do financially this year is get the tree. I hope my kids, who're young adults, understand."
My friend Helene piped up with a story. Years ago she and a friend were supposed to go Christmas shopping together. As the day approached, she found she had no money. She told her friend that the shopping date was off. The morning of that date Helene woke to find an envelope slipped under her door. Inside was a cheque for $300 with a note from her friend saying "Let's go shopping!" So they did.
All of us hearing the story said, "That was a wonderful gesture on her part," and "Friends like that are rare!" I went back to my desk feeling a warm glow for my friend Helene. Her friend came in for her, never asking for repayment, just that Helene have a wonderful Holiday season.
The next morning Helene came by my office to share a letter she had received. We chatted about it, then she looked at me most seriously. "I have something for you, and I hope this doesn't offend you, but this was done for me and I want to do it for you." I wondered if I had bad breath and she would hand me a pack of gum or mouth wash. She took my hand and put $300 into it.
Tears welled up in my eyes as I threw my arms around her. I was so moved by her compassion and thoughtfulness that my body was shaking. One day I thought Helene was so fortunate to have such a caring giving friend in her time of need. The next day I discovered that friend is Helene for me.
Helene gave me and my children a Christmas that year. I hope I can pass the same on to someone else in the future, and bring the gift full circle once more.
Originally published as HeroicStories #245 on Oct 18, 2001

Podcast: Play in new window | Download (Duration: 3:57 — 3.1MB)