by John Elliott
Missouri, USA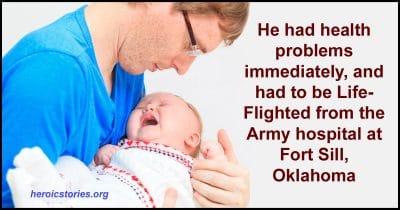 Two days before September 11, 2001, our youngest child was born. He had health problems immediately, and had to be Life-Flighted from the Army hospital at Fort Sill, Oklahoma, to Children's Hospital at the University of Oklahoma in Oklahoma City. This was an hour and a half trip by car.
But my wife and I didn't have a car. Our previous car had blown up, so I rode with a guy in my unit to work every day.
I had been talking with another member of my unit, to buy a car he hadn't driven for two years. But he wanted all the money up front, as he'd been burned by other people before, and lost money.
That evening I called him up, and explained our situation. He immediately agreed to take payments I could afford — $150 a month. He was still paying $250 a month for the car, with nine payments left. He said to make the balance up with my tax refund. I asked him if he would make money on it, and he said no, and it didn't matter.
The next morning I packed up a week's clothes for my wife, our two children, and myself. I picked my wife up at the hospital, and headed up the highway for Oklahoma City.
About 20 minutes outside of Oklahoma City, we had a flat tire. I was stuck on the side of the highway, no spare, no jack, in almost 90-degree weather, with my wife and two children. About 30 cars passed, no one stopped, even with the hood raised to signal car trouble.
Finally, a dump truck (of all things) pulled over. He took me a mile up the road to Newcastle. It was another mile to the tire shop. Once there, I explained my predicament of neither jack nor spare, and they handed me a jack to borrow.
Newcastle is a small town, with no taxi service, so I asked where the police station was. I walked a few blocks to the police station, and explained the situation to the officer there, who was very rude. He said they weren't a taxi service.
I resigned myself to walking the two miles back to the car, and started on my way.
I got about a half mile down the road when a police cruiser with two officers stopped me.
It was the officer who was so rude to me and his police chief, who had learned about the situation through the dispatcher. They drove me to the car and waited while I took the flat off. Then they took me to the tire shop for the repair, and finally back to the car to install the repaired tire. I then returned the jack to the tire shop.
My son spent three weeks in the hospital, and is now a healthy 5-year-old. I wish I could go back and thank all those who helped us to be by his side when he was so ill.
Originally published as HeroicStories #712 on May 9, 2007

Podcast: Play in new window | Download (Duration: 3:45 — 1.8MB)