by Betty J Rosentrater
California, USA
My sons — hyperactive, red-haired Ray and super-sensitive, artistic Eldon — were excited and happy. At four and six they no longer needed to tiptoe quietly through the house during the day while their Poppy slept. Finally, the family could eat breakfast together. And he would be back home in time for play before supper. My husband had been working night shift setting type at a publishing house in Kansas City, Missouri. But now that wretched night shift was at an end.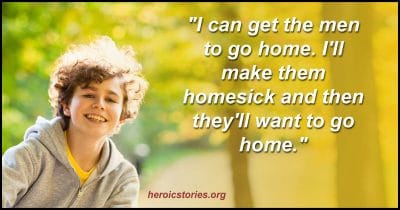 Once again we were a family with a father at home. The boys followed Poppy everywhere, "helping" him with all his projects. Mealtimes meant good conversations as well as food. Evenings were a time for family singing with the guitar. The boys' day was neatly tied up with nighttime stories and tuck-in time. How they enjoyed having their father to share all of life's activities!
Since he was home evenings, my husband sometimes went to the city mission (a shelter for homeless men) where he played the accordion and sang. Ray and Eldon sometimes accompanied him. It wasn't often that a cute little blonde boy and wiggly little redheaded child came to such a place. Their happy ways and friendly manner touched these wayward, discouraged men.
After the service the boys visited with the men who'd come in off the streets to escape the cold and get a meal.
All went well until one night Eldon realized there usually were no women or children at the services. And the men at the mission were very sad. He wondered if they went home at night. It seemed they didn't have a home. He was puzzled and confused.
Thanksgiving was coming. "Will they go home to their families so their boys won't be unhappy?" Eldon asked me. He was deeply disturbed to learn they wouldn't be with their families. He felt sorry for boys without fathers to enjoy. He couldn't understand why the men wouldn't go home. For days he brooded. Then he had an idea.
"I can get the men to go home. I'll make them homesick and then they'll want to go home. I'll talk to them and make them remember about fun at home. I'll just love them." His eyes shone in happy anticipation.
The little fellows worked long hours — making dozens of apples into turkeys with cardboard parts the likes of which you've never seen. At the mission they handed out their "love turkeys" with smiles and hugs. Eldon was right. Simple, childish love stirred dried-up memories and longings. Many men did go home to spend that Thanksgiving with families.
Several months later my husband needed heart surgery, but there was no money for it. When these derelicts learned of our problem, they sacrificed some wine and even food money. Touched by the boys' love, they responded. The miracle of love inspired them to reach beyond their own pain — to help two little boys keep their Poppy.
Originally published as HeroicStories #491 on Feb. 26, 2004

Podcast: Play in new window | Download (Duration: 4:21 — 2.1MB)