by Rick Wilson
Laurel, Maryland, USA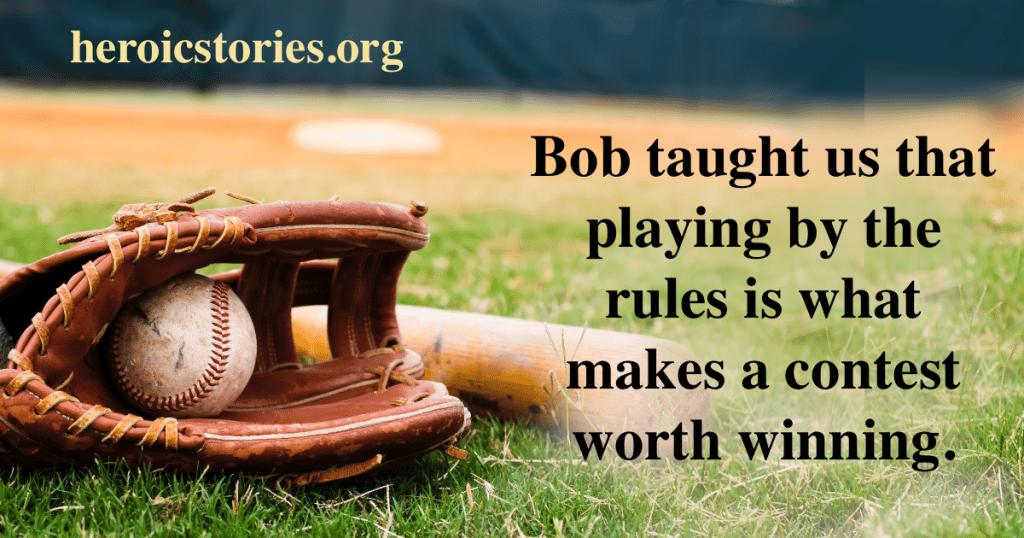 The green team was undefeated. The blue team had lost to them twice in the regular season. The Laurel Boys and Girls Club junior division baseball championship would be close.
Ken, blue team's coach, is a calm, disciplined man who believes you win by sticking to the basics. Walter, leader of the green team, is a passionate competitor who says to win, "You got to want it more than the other team." Bob, the umpire, is a big guy with the booming voice of a senior chief petty officer, which he is. His 20-year Navy career brought respect for rules. Our last character is David. He is small and developmentally disabled, but loves to play baseball. He attended every practice and was ready to play every game.
Every time David got up to bat, he drew a base on balls (Bob might have given him an extra small strike zone). In the middle innings, the blue team got a healthy lead, but by the last inning the green team fought back to within one run, and was up for their last at-bat. Walter was coaching from third base. There were two outs, but two runners were within easy scoring distance at second and third when David took his place in the box.
The pitcher fired the first pitch right over the plate, belt high and right down the middle. David didn't swing. Bob didn't say a word, but signaled a strike with a hand motion. The second pitch was a carbon copy of the first. David stood rock still again. A short pause, then "Strike two" came the call. David turned away from the plate and began to cry. Bob called time.
Walter walked over to David. A substitute hitter would have made it easier on everyone. David would not have any more pressure, Walter and the green team would have a better chance to win, and Bob would not have to call David out. Not today. I don't know what Walter said, but David's tears stopped. Then the intense competitor and the little boy who loved baseball hugged each other for a long time.
With his tears dried, David took his place in the batter's box. He held his pose as another perfect pitch crossed the plate. "Strike three," came the soft call from Bob. The blue team had won.
In this rare moment, we won something much more important than a baseball game. David showed us it's OK to be afraid, and getting back into the game with two strikes on you is often the most courageous thing you can do. Bob taught us playing by the rules is what makes a contest worth winning. Walter showed us competitiveness doesn't come from needing to win at all costs, but from loving the game.
Sometimes in life, as in baseball, real heroes need to dry their eyes, dig in and wait for the next pitch, even if they know they might strike out.

Podcast: Play in new window | Download (Duration: 4:20 — 4.0MB)