By Arry Tanusondjaja
Jakarta, Indonesia
I studied in Adelaide, Australia, from 1992 to 1995. My parents actually could not afford sending me overseas so my sister decided to finance my study there. I had been living in a shared house for a while with two friends. Then, one night when everybody was out enjoying the weekend, some burglars got into our house and ransacked our rooms. Along with the things that he took was my newly bought stereo. A couple of weeks before, I had to beg to my sister so that she would allow me to buy a stereo. I promised that she could deduct $50 from my $500 monthly allowance.
I was deeply angry and disappointed. Because I didn't feel comfortable living there anymore, I decided to move back to the dormitory. During that time, I also got to know Kevin through Internet Relay Chat, from California. We exchanged e-mails back and forth and at one point, he asked me to name 10 artists who I liked. He worked for a major record company. I jokingly told him that if he was thinking of sending me CDs not to bother doing it because I didn't have any stereo. I shared my experience with him, and Kevin just made silly comments about it and laid quiet for a while.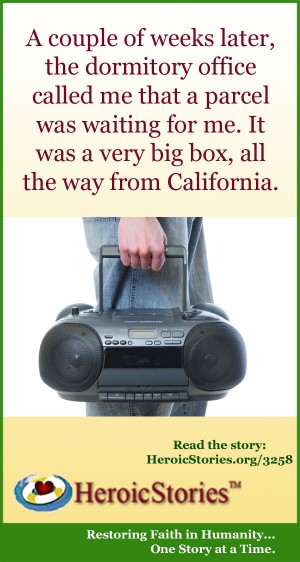 A couple of weeks later, the dormitory office called me that a parcel was waiting for me. It was a very big box, all the way from California. In it, there was a portable CD/cassette player, and 11 CDs, from my friend Kevin. He had to spend hundreds of dollars just to give me that pleasant surprise. We have never met each other in real life, but he shows that friendships can span thousands of miles.
In this world, where skepticism reigns, it still warms my heart to remember what Kevin did in 1995. Often times, people take a cold attitude towards others, and give questioning looks when strangers, or even friends or relatives, express their misfortune. However, I can now see that even in this world of billions of people, there are gems shining in different parts of the world.
Originally published as HeroicStories #35 on July 22, 1999