by Jerri Barrett
California, USA
On New Year's Eve many years ago, I was driving back to graduate school in Rochester, New York. In Binghamton, New York, halfway between my parents' house and school, smoke suddenly came out of my car engine. My car was an old Ford Mustang that had seen better days.
I got off the highway and made it to a small gas station near the exit. The attendant found that my engine was completely without oil. I bought enough oil to refill the engine, but we saw it leaking out again rapidly. He sold me a few extra cans and gave me directions to a good garage he knew of.
At the garage, I told the owner what had happened. He came out, looked the car over and checked the oil; it was half empty already. He said I'd have to wait; other customers were ahead of me and they were supposed to close at 1:00 p.m. for New Year's Eve. It was nearly 11 a.m. and I was in a strange town with no place to go, so I sat on some plastic crates and waited.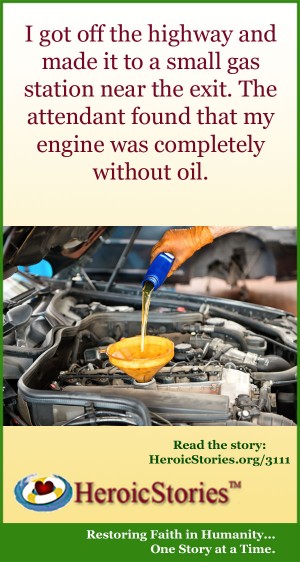 Eventually the owner came over to tell me my oil pressure gauge had snapped off. He'd have to get a new part from the auto parts store, which was closed, but he'd make some calls. I found out later the store owner was his friend, and had not only reopened the store but delivered the part himself.
The whole time, I was figuring out how much cash was in my pocket, how much was in my bank account, would they take a check and what I could possibly leave for collateral if they wouldn't.
For three hours people came and went. One worker bought me a coke, and the mailman gave me half his sandwich when he stopped for lunch at the garage. I was too afraid of being unable to pay the bill to buy anything for myself.
Finally my car was off the lift and the owner called me over. "That will be seven forty," he said. I nearly fainted. "Seven hundred and forty dollars?" I squeaked. "No, seven dollars and forty cents," he said. "I have to charge you for the part."
I was amazed and immediately filled with gratitude. I wanted to protest, but I needed what little money I did have for groceries and utilities until my next student loan arrived. With thanks and hugs for everyone in the garage, I gave them the tin of homemade Christmas cookies my mother had given me that morning.
Their kindness has stayed with me for more than 20 years. All those men, from the garage owner to the mailman, knew they'd never see me again since I wasn't local. They could have ripped me off on price, or charged the repair's true value — over $200. Instead of taking advantage of my misfortune, they gave me the best New Year's gift ever — true kindness and charity.
Originally published as HeroicStories #548 on Sept 14, 2004

Podcast: Play in new window | Download (Duration: 4:15 — 4.0MB)