by Katy England
Bangor, Maine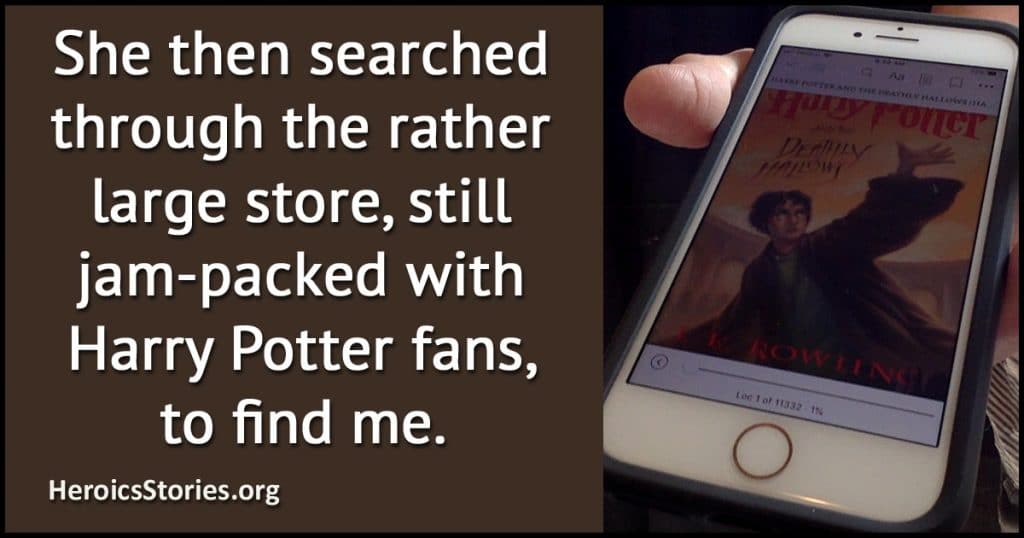 I work for a small weekly newspaper in Maine and on July 21, 2007 covered the midnight release of the last "Harry Potter" book. My coworker and I talked to children at a local bookstore about what they liked about the series, their predictions about the ending, and reading in general. My story was for the paper's next edition.
We got great pictures of the army of Harry Potters, Hermiones, Rons, and Snapes. Kids and adults were dressed up for the occasion. There was lots of festive fun, games for the kids — the bookstore was crammed with hundreds of people.
A friend had asked me to pick up her pre-ordered copy of the book. So after my coworker left, I settled down for the long haul, since I wouldn't get the book until around 2 a.m.
I wandered around the bookstore, browsed other titles, sat in a comfy chair when I could, and waited for my wristband color to be called. Young kids who'd been hollering and laughing started to glaze over and nod off. My color was finally called, and I dutifully got in line.
After about 10 minutes, a little girl came up to me. She was 10 or 12 years old, with long brown hair pulled back in cute half pigtails. She was in remarkably good spirits, considering it was around 1:00 a.m.
She asked if I was Katy. A bit surprised, I said yes.
"Hannah" handed me my cell phone. I was dumbfounded. I hadn't even realized it was gone; it must've slipped from my pocket during my wanderings around the store.
Apparently Hannah had called the number for my house and spoken to my very sleepy husband, who told her what I looked like. She then searched through the rather large store, still jam-packed with Harry Potter fans, to find me.
She slipped into the crowd while I was still gaping and thanking her. Being bleary-eyed and tired, I stood in line a couple minutes, stunned, as what she'd done ran through my head.
I came to my senses and left my place in line to find her again. She was with her mom, and I thanked them both profusely. Hannah was sweet and bashful. I offered to buy her any book, but she declined, which impressed me.
The phone isn't actually mine; it belongs to the company I work for. I couldn't bear to think what would have happened if this little girl hadn't found it. I would have been in some trouble, to say the least. On top of the embarrassment, I would've had to pay for it.
How easy it would've been for Hannah not to make that effort, there were hundreds of people there, she could've turned it in to the desk. What she did was so much more personal, it shocked and touched me simultaneously. I'm still so impressed that she took the time and made the effort to get it back to me.
Originally published as HeroicStories #762 on Jan 23, 2009

Podcast: Play in new window | Download (Duration: 3:58 — 3.1MB)