by Teresa Coffman
Nevada, USA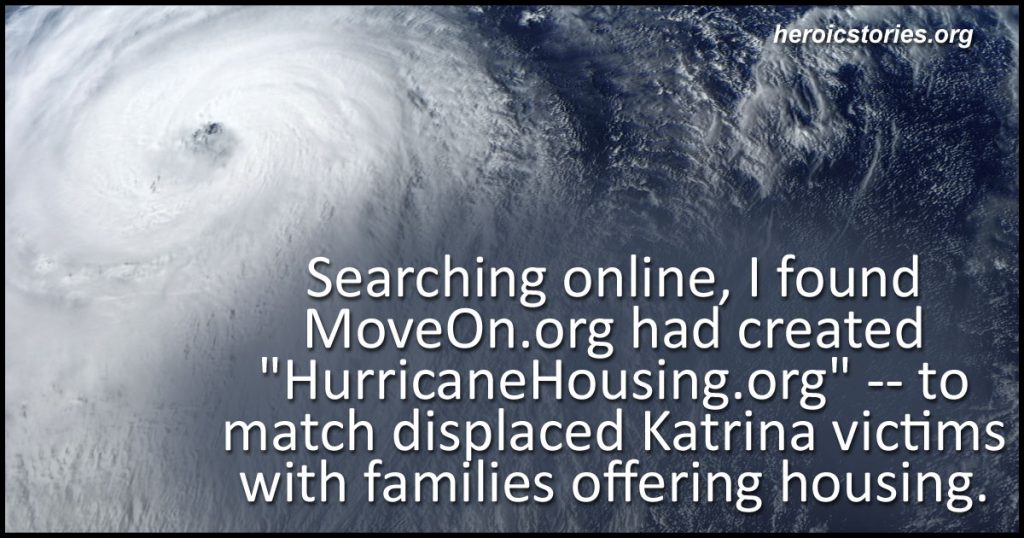 When Hurricane Katrina hit the Louisiana coast twice on August 29, 2005, I, like many worldwide, was glued to news of the horrific devastation. As I watched, my heart went out to ordinary people losing *everything* in the storm. Where would they go? What would they do? How could they rebuild their lives?
I wondered, what if it had been me instead? What if disaster had struck my area? How would I, my friends and family cope? As I saw families separated by rescue efforts, my heart went out to them. Could I help?
Searching online, I found MoveOn.org had created "HurricaneHousing.org" — to match displaced Katrina victims with families offering housing. Thousands upon thousands of people from around the USA were offering to take in Katrina survivors!
Clicking on "Housing Offered", I read (entries condensed): "PLEASE LET US HELP. Housing for 2. Extra bedroom, our children grown. Couple, single parent or two H.S. seniors worried about graduating. (Have hosted exchange students.) We smoke, have cats."
And: "Housing for 2 children in my apartment. Will enroll in school with grandson, 12, who lives with me. My son will assist in transportation, caregiving. Grandson will help make them welcome until their families located. Plan temporary, but if permanent needed, would look at."
By now I was crying, but kept reading: "Family of three will host family of 2-4. 2 furnished bedrooms on second story, no charge. Great place for fresh start, many jobs. Walking distance to three schools, all grades, mall, grocery, 2 parks. Have three dogs; all pets welcome except cats… son's allergic. Fenced backyard with pool, trampoline. Require signed release of responsibility in case of injury. Questions welcome. Please call, we'd love to have you here!"
"Housing for 4 in working-class family. If you want to relocate, my wife and I will help you as long as it takes. Person working in trades great, I could put them to work immediately. Will help someone who'll help themselves. It's a long way from home, but we'll figure out how to get you here, if we need to drive down or pay your air fare."
"Housing for 3. My wife and I offer all amenities. As parent of 3 grown children, my heart grieves seeing small children homeless in New Orleans. Prefer single mother with 1-2 children. Will help get kindergarten, work… interacial couple so race no issue."
"Housing for 6. 3-bedroom, 2-bath home, quiet cul-de-sac. No furniture, will furnish for family. Nice yards. I'm owner, it's empty, will bless a family with 3 months free housing."
This is who we humans truly are. People who make offers like: "Air fare for *four*." "Grandson will help children adjust." "Furniture for family of six." We should be proud, that we're compassionate enough to create a web site like HurricaneHousing.org.
And I'm relieved. For I know if disaster strikes my area, similar web sites will arise, and our fellow humans will reach out to offer us everything we need to begin anew.
Originally published as HeroicStories #673 on Sep 3, 2006

Podcast: Play in new window | Download (Duration: 4:54 — 2.3MB)