by The Teacher
New Jersey, USA
Another year as a junior high teacher in New Jersey was coming to an end. The morning ceremony for the eighth grade graduates was about to begin. There's always a feeling of accomplishment at this time. You also hope that the students will look back and realize how much they learned and that they'll be successful in high school.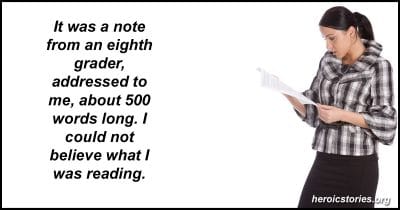 Having taught for 15 years, I had come to realize that teaching was a profession where you receive very few "thank you's" and where the impact you have will never be known. This empty feeling is especially acute on graduation day.
I headed towards the gymnasium ceremony and decided to stop by the room where I teach American history to pick up a few items I wanted to bring home.
When I glanced at the podium in the room, I saw a sheet of paper and began reading. It was a note from an eighth grader addressed to me about 500 words long. I could not believe what I was reading.
This quiet young lady had written to express her gratitude for the positive affect I had on her life, both emotionally and academically. She wrote about the tough time she initially had in class and how I was able to make learning enjoyable, make her laugh, and give her confidence that she would do well in high school.
As I read the letter, tears streamed down my cheeks. When I had finished, I quickly went to the gymnasium. Quite honestly, I do not remember anything regarding the ceremony; my thoughts kept going back to the letter. I do remember thinking that I'd better not make eye contact with her during the ceremony, because I would not be able to hold back my tears, and my colleagues would wonder what was happening to such a stoic member of the faculty.
This student changed my life forever by her act of appreciation and kindness. I still don't receive many notes of thanks from parents and students, but I don't need to. In June of 2002, I received a note of gratitude from a young lady telling me that I had made a difference.
Since this former student works at a local eatery when she is home from college, I see her from time to time. I always make a point of saying hello and inquire about her college experience. I hope she realizes the impact she has had on me.
Whenever I have misgivings about teaching, or question whether I make a difference, I read her note, and the tears appear once again — tears of gratitude for having the opportunity to meet this one angelic student.
Originally published as HeroicStories #800 on May 29, 2010