by Mary Malone
Washington, USA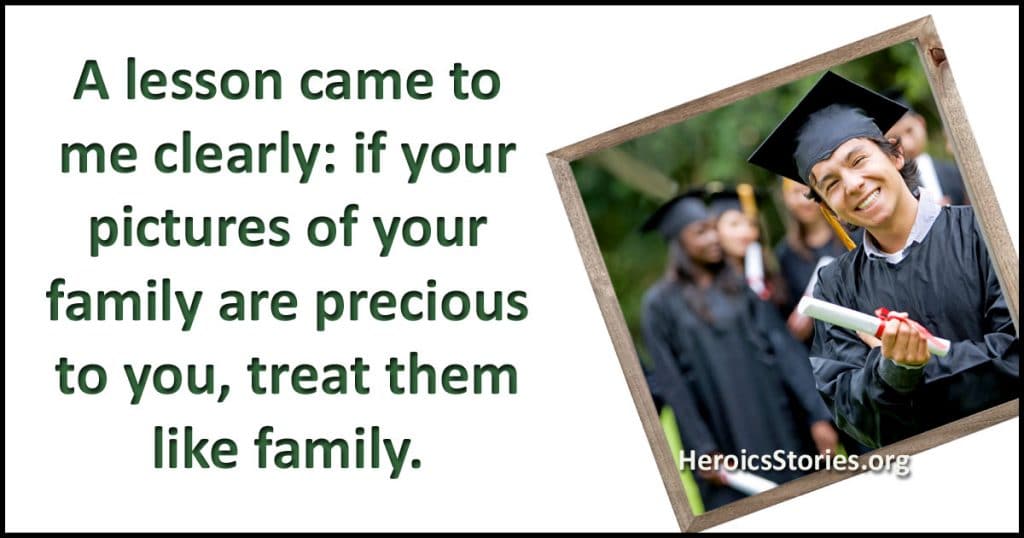 I was prepared for the worst. I had water, gloves and tools to scrape the mud, garbage bags in which to put the broken picture frames, tables to set out the photos. But I wasn't prepared for what I saw when I opened the first bag.
I had volunteered for cleanup efforts from the flood in Centralia, Washington, in December 2007. A gal named Kathryn had sent a volunteer to my home with photos: four bags and two boxes.
The bags were mostly full of pictures in frames, old 70's high school pictures, a black and white or two, and lots of snapshots. I was amazed to see that under an inch of mud, they weren't destroyed.
Water really isn't an enemy to pictures, they are developed in liquids, and as long as they don't dry out in this condition, they can be cleaned and made right again. I started on the first pile. I had glimpsed a black and white in the bag and thought I ought to start on the oldest ones first.
I had to break the frames in order to get the swollen cardboard backings off. As I peeled, rinsed, and scraped the mud I got down to the glass and the picture. As I slid my putty knife along the edge of the glass, there appeared an old gentleman in a gray flannel hat, with a distinguished-looking mustache. The photo was in nearly perfect condition.
Encouraged, I plunged onward, releasing brides and grooms, babies with moms, and school aged children from their muddy prisons.
What I was not prepared for as my tables filled up with faces was the surge of raw emotion I felt as I looked on decades of photos nearly destroyed by the raging waters of winter rains. It broke my heart that though these pictures were now relatively safe, many others were lost to their mud-covered sepulchers.
A lesson came to me clearly: if your pictures of your family are precious to you, treat them like family. Don't store them on the ground floor if you live close to water of any kind. Make duplicates and store them off-site, in a safe deposit box, or a relative's home.
And don't print your pictures at home! I know we all do it, but don't let that be the only copy! Pictures printed by professional developers can be rinsed and cleaned without fear of ruining the photo. Photos printed at home wouldn't be all right after sitting in mud for days — in fact, they wouldn't be there at all.
The first night I rinsed and rinsed for about five hours. My counters and four tables were full of faces I knew nothing about. Families I don't know, children who are grown up with their own children, water skiers, cruises, boat rides, Mustangs, Harleys, babies, grandparents, toddlers and toys.
But mostly… my tables were full of hope for rebuilding.
EDITOR'S NOTE:
The author's web site: http://www.scrappermarylu.blogspot.com
HeroicStories #749: 7 June 2008 www.HeroicStories.com

Podcast: Play in new window | Download (Duration: 4:09 — 5.1MB)