by Michael Barcelona
Dillsburg, Pennsylvania, USA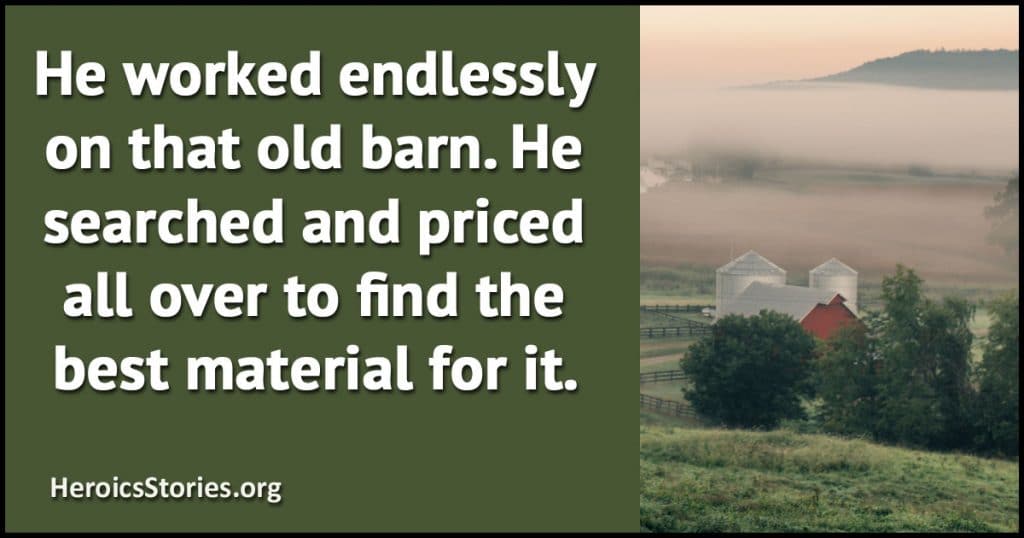 Uncle Johnny grew up in the depression years in the Irish Channel in New Orleans, Louisiana. His mother was a widow with five children to feed so he became a bread winner very early. As a young boy he would work on hot roofs until his feet blistered so he could hardly walk. For his efforts, he would earn enough to buy their food that day.
As a child I saw my Uncle Johnny come weekends to help my dad remodel our home. Mom and dad had purchased a worn-out barn from a gracious attorney near Chalmette, Louisiana. It would have been condemned by today's standards, but for Uncle Johnny it was like a toy at Christmas. For us, it was a haven away from public housing with its crime, drugs, and social stagnation.
He worked endlessly on that old barn. He searched and priced all over to find the best material for it. There was nothing he wouldn't do to make our home a decent, comfortable place for our family. I can see him now pulling up with my Aunt Merle and five cousins in that old blue and white Ford with the rear doors tied shut because the latches didn't work.
Uncle Johnny worked his way through Tulane University, got his Master's in Education Administration, then opened his own school, building much of it with his two sons. My Aunt Merle's spiritual strength, pure convictions, and devotion laid the school's foundations. Johnny's sons are remarkable men, winners, great coaches, who work with him still. His three daughters are terrific educators and great mothers themselves. They remain a team.
Johnny's school has helped thousands of people over the past forty years. Educationally it's the pride of the South. His children administer the school now, but he's there, working, most every day. He and Aunt Merle continue to watch over the fruit of their harvest.
In my mind, I still see John Thomas Curtis driving a '57 blue and white Ford with ropes tied around the door posts. His decisions in times of crisis bring success, yet he faces every day as a new challenge because yesterday's victory he graciously forgets. He is a man who leads when no one else sees, understands, or has anything to offer.
With all their success, one can become overwhelmed when standing in the presence of Uncle Johnny and his family. After a few seconds, however, you share the spirit of what "WE" can do next year. Somehow you begin to feel personally involved in something that's bigger than anyone.
People like Uncle Johnny help us strive to be more than we think we can, not by rhetoric or cheap ideas, but by giving a piece of their heart and hands. His inspiration has taught me that helping the weak only makes you stronger, if you have the gift of love.
Originally published as HeroicStories #207 on Apr 23, 2001

Podcast: Play in new window | Download (Duration: 4:14 — 3.2MB)