by Kit Cassingham
Boulder, Colorado, USA
I was working in the garden and kept hearing strange sounds. I looked to see if neighbors were watering their yards or spreading gravel, but I couldn't find where the sound was coming from or what it was. After a while, I noticed a large group of bees swarming my spruce tree. Looking closer, I realized I had an entire "swarming hive" attaching itself to the tree — there were THOUSANDS of them. Now I had the answer to the sound question, but had a new question of what to do about them.
I started calling around looking for someone who could help. "Call the Division of Wildlife" said one. "Stay inside" (duh), "call an exterminator" (no way!), "call the fire department". I spent hours looking for someone who wanted my bees. Then I got an idea: I buy honey from a local company, so I called them to ask if they knew any bee keepers who could help. They immediately said "call Ernie" and gave me a number.
Ernie is one of those people who looks rough on the outside but is soft on the inside. He said I got to be his assistant in the bee removal process and then grinned a big, mostly toothless smile and winked one of his twinkling eyes.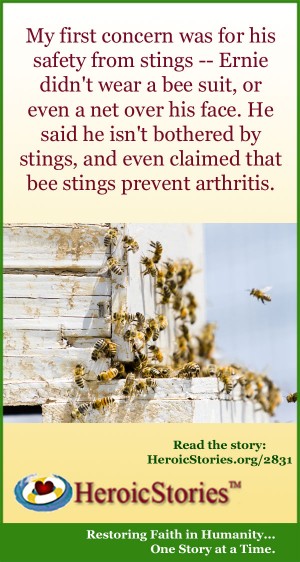 While we waited for the bees to settle into the hive Ernie brought, I asked him about my yard's inhabitants. My first concern was for his safety from stings — Ernie didn't wear a bee suit, or even a net over his face. He said he isn't bothered by stings, and even claimed that bee stings prevent arthritis. I joked around about that notion for a bit, and he said that was nothing: a woman called him three years ago to ask if she could buy fifteen bees from him. He said sure, but "if it won't embarrass you to tell me, what do you want with 15 bees?" She told him she was using bee stings to treat her multiple sclerosis.
His response was that if such an unusual approach could help her, he wouldn't sell her the bees, he would give them to her. When she picked up her first bees, she couldn't get out of her car. Now, she walks into Ernie's house to gather the bees he's put in a jar with a bit of honeycomb. She told him that she had been going blind from the MS, but has sight today. He beamed at the thought of helping her, especially, he said, because he was so lucky to have been very healthy all his life. He said that he doesn't know if the bees really help her, but if she thinks so, that's good enough for him.
As I watched him drive off with his new hive, I wondered: will "my" bees make my next jar of honey, and help keep that woman walking? That sure beats calling the exterminator.
(Publisher's Note: Kit Cassingham is was HeroicStories' Managing Editor back in the day. Her web site today is https://www.liveinfocusedenergy.com/ )

Podcast: Play in new window | Download (Duration: 4:18 — 4.0MB)